Creating a Boho Baby Nursery: Tips and Inspiration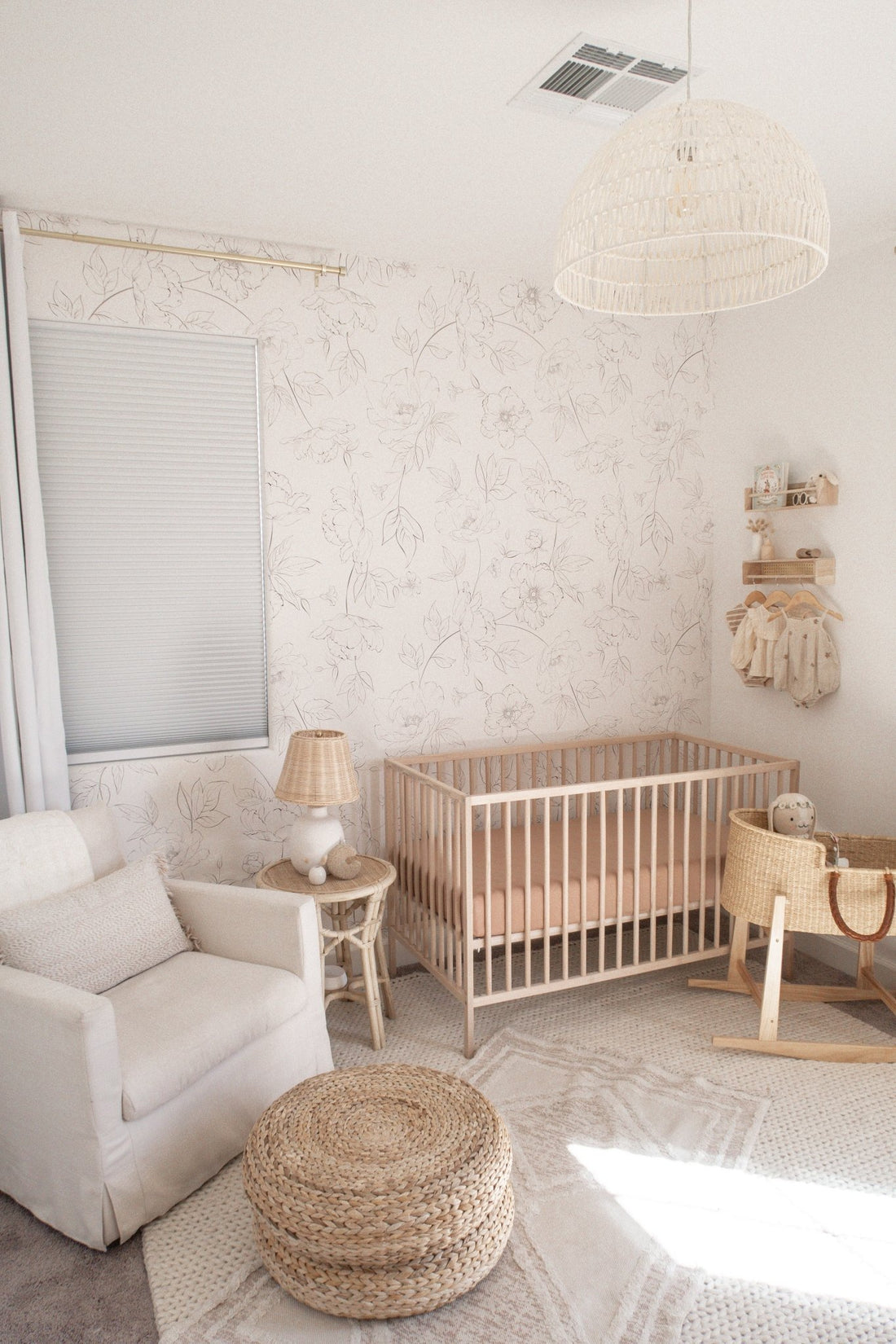 All Photo Credits: @kileanryreel  |  PEEL AND STICK WALLPAPER: Peony


If you're a fan of bohemian style, why not bring that aesthetic into your baby's nursery? With its relaxed, eclectic vibe, a boho-inspired nursery can be a cozy and inviting space for your little one to grow and play. From earthy colors and natural materials to whimsical accents and cozy textiles, this guide has everything you need to create a boho baby nursery that's both stylish and functional.


Choose a color scheme and stick to it. 
When designing a boho-inspired nursery, it's important to choose a color scheme that reflects the earthy, natural vibe of the style. Think warm, muted tones like terracotta, sage green, and mustard yellow. You can also incorporate pops of brighter colors like coral or turquoise for a playful touch. Once you've chosen your color scheme, try to stick to it throughout the room to create a cohesive look. This can be achieved through bedding, wall decor, and even furniture accents.
When it comes to creating a boho baby nursery, less is often more. Instead of overwhelming the space with too many colors or patterns, focus on a few key pieces that really capture the essence of the style. For example, a macrame wall hanging or a woven rug can add texture and visual interest without detracting from the overall simplicity of the room. And don't forget to incorporate natural elements like plants or wooden accents to really bring the outdoors in. With a little bit of planning and attention to detail, you can create a beautiful and peaceful boho-inspired space for your little one to grow and thrive in.
Incorporate natural elements like wood and plants.
One of the key elements of a boho-inspired nursery is the use of natural materials. Incorporating wood accents, such as a wooden crib or dresser, can add warmth and texture to the space. You can also add plants to bring in a touch of nature and create a calming atmosphere. Consider hanging a wooden shelf for hanging clothing or placing a potted plant on. Just be sure to install safely, so there are no hazards for babies.
 Mix and match patterns and textures.
A boho-inspired nursery is all about embracing a mix of patterns and textures. Don't be afraid to combine different prints, such as floral, geometric, and tribal, to create a unique and eclectic look. You can also incorporate different textures, such as woven blankets, plush rugs, and fringed pillows, to add depth and interest to the space. Just be sure to choose a cohesive color palette to tie everything together.
Add personal touches with DIY décor.
One of the best ways to make your boho baby nursery feel truly unique is by incorporating DIY décor. This can include anything from hand-painted wall art to homemade dreamcatchers. Not only will these pieces add a personal touch to the space, but they can also be a fun and rewarding project to work on during your pregnancy. Plus, DIY décor is often more affordable than store-bought items, which is always a plus when you're preparing for a new arrival.
When it comes to DIY decor for your boho baby nursery, the possibilities are endless. You could create a macrame wall hanging using natural fibers like cotton or jute or decorate with pampas grass and palm leaves. Another fun idea is to make your own mobile using feathers, beads, and twine. You could even repurpose old furniture or thrift store finds by giving them a boho makeover with a fresh coat of paint or some new hardware. Whatever DIY projects you choose, they're sure to add a special touch to your baby's nursery and make it feel like a one-of-a-kind space.
Add Boho Peel and Stick Wallpaper
Boho peel and stick wallpaper can add a touch of bohemian style and flair to various areas in your home. Here are some popular places where you can add  peel and stick (like our Peony design) wallpaper:
1. Accent Wall in the Living Room: Create a focal point by adding boho wallpaper to one wall in your living room. This will instantly transform the space and give it a unique, artistic look.
2. Bedroom: Add boho wallpaper to the wall behind your bed to create a bohemian-inspired headboard. It can also be used on other walls to add a cozy and eclectic vibe to your bedroom.
3. Dining Area: Apply the peel and stick wallpaper to the wall behind your dining table to enhance the ambiance and make your dining area more inviting.
4. Entryway: Make a statement as soon as someone walks into your home by adding boho wallpaper to your entryway. It sets the tone for your home's style right from the start.
5. Home Office: If you have a home office or workspace, adding boho wallpaper to one of the walls can make it a more enjoyable and creative environment.
6. Cabinets and Furniture: You can also use peel and stick wallpaper to add a boho touch to your cabinets, dressers, or other furniture pieces. It's a fun way to upcycle old furniture and give it a fresh look.
7. Stair Risers: Consider applying the wallpaper to the stair risers for a unique and eye-catching design element in your home.
8. Bathroom: Some peel and stick wallpapers are designed to be moisture-resistant, making them suitable for bathrooms. Use them as an accent wall or to add character to your bathroom space.
9. Kids' Room or Nursery: Brighten up your children's space with boho peel and stick wallpaper, featuring playful patterns and colors.
When adding peel and stick wallpaper, ensure that the surface is clean, smooth, and free from any dust or debris. Also, remember that peel and stick wallpaper is temporary, making it an excellent option for renters or those who like to frequently update their decor.
Subscribe to our newsletter and be the first to know about new designs, sales and see more blogs like this!