How to Wallpaper Your Bathroom Like a Pro - 5 Tips You Need To Know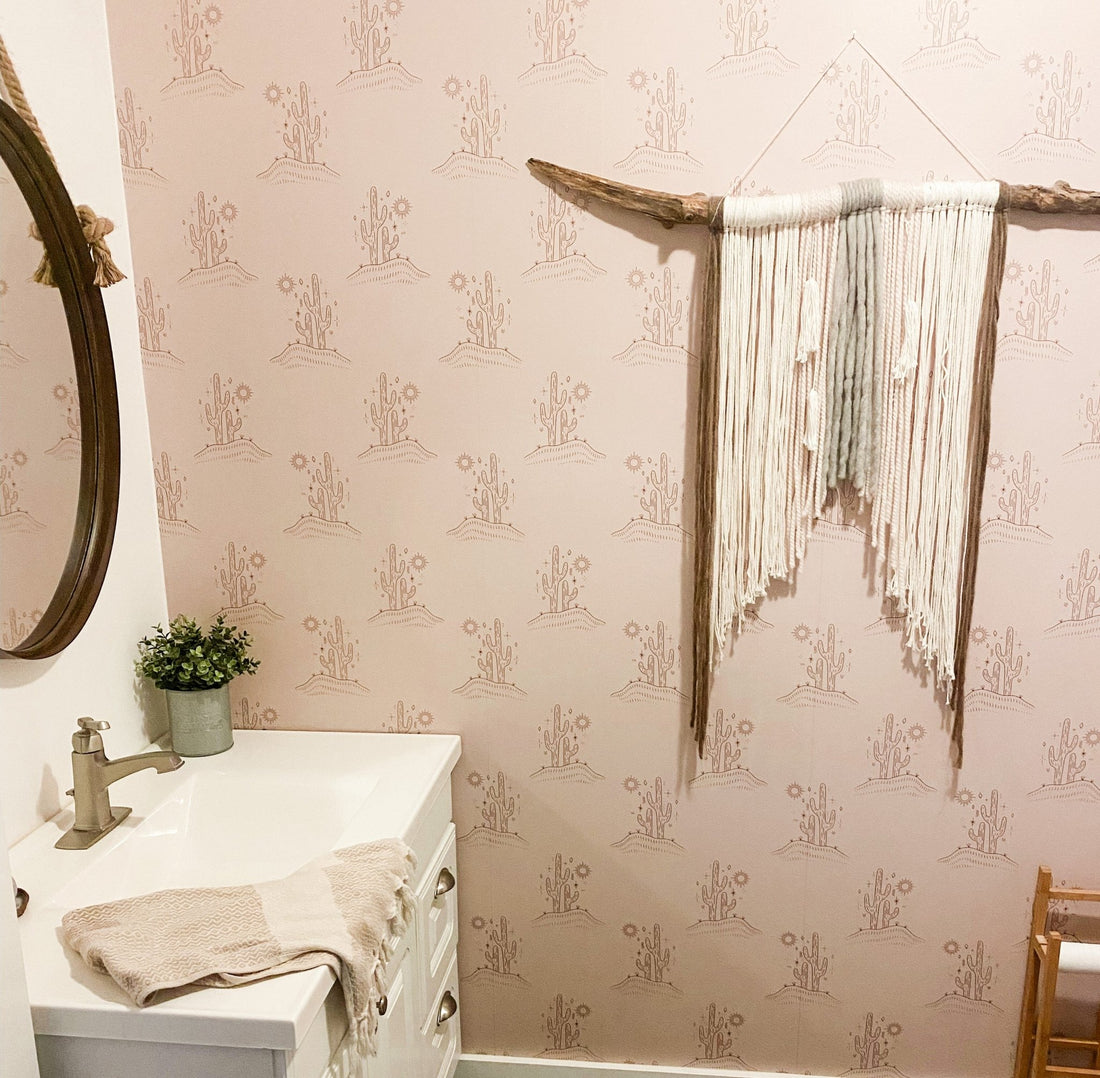 All Photo Credits: @britt.d.crozier|  PEEL AND STICK WALLPAPER: Rocky's Trail

Choose the Perfect Wallpaper
Selecting the right wallpaper is the foundation of a successful bathroom makeover. Consider the size and layout of your bathroom, the existing color scheme, and your personal style. Whether you're into subtle textures or bold patterns, our wide range of high-quality wallpapers will cater to your unique taste and preferences. Before you begin transforming your room, you will need to measure your wall(s) height, and width to figure out how many sheets of wallpaper you will need. If math isn't your thing, you can use our handy wallpaper calculator!
Prep Like a Pro
Remove all outlet plates and switch covers. It can also be helpful to remove mirrors and lights if possible. Use a cloth and warm water to remove any oil, dirt and dust from walls. Allow your walls to dry for 24 hours to ensure they are completely dry. Moisture on the walls during installation can cause peel and stick wallpaper to have adhesion issues
Tip: If your walls are newly painted, we recommend waiting 30 days before applying our peel and stick wallpaper. Check with your chosen paint company for their full cure time to be sure! Visit our FAQs for more helpful information.
Kickstart your wallpaper installation
Given that most walls lack absolute straightness, it is helpful to start with a straight line. Begin by measuring 23.5 inches out from your left wall and, using a reliable level, mark a precise straight line. This well-defined line will serve as your guide when installing sheet 1.
Peel the wallpaper backing down about 24 inches and apply using our included squeegee. Leave an extra inch at the top to accommodate any minor irregularities in wall alignment. Continue peeling and applying the wallpaper down the wall. If you make a mistake, don't worry! Our peel and stick wallpaper is very forgiving and can be taken off and reapplied as needed.
Air-Bubble-Free Wallpaper Application
For a flawless application of your wallpaper, we highly recommend utilizing our decal applicator (squeegee) to eliminate any trapped air behind the sheets. As you apply the wallpaper, ensure to apply pressure from the center all the way out to the seams, preventing any potential bubbling issues down the road. Following these techniques will result in a beautifully smooth and long-lasting finish for your wallpaper installation.
Install around windows and doors
Effortlessly install wallpaper around windows and doors by applying the wallpaper to the edges and using a sharp utility knife for precise cuts. Once cut, employ your trusty squeegee once more to guarantee secure adhesion of the wallpaper along the edges, ensuring a seamless and polished look


Bonus tip - Ask a Friend!
It's absolutely possible to install peel and stick wallpaper by yourself, but you can make the task faster, simpler, and even enjoyable. As you install, one person is able to hold up the wallpaper panel and smooth it onto the wall while the other peels the backing off and ensures the lines are straight and even. Teamwork makes the process a breeze!
 Now for the fun part! Decorate the room and add all the finishing touches. Enjoy!
Subscribe to our newsletter and be the first to know about new designs, sales and see more blogs like this!