Removable Wallpaper: An Easy Upgrade to Transform Your Home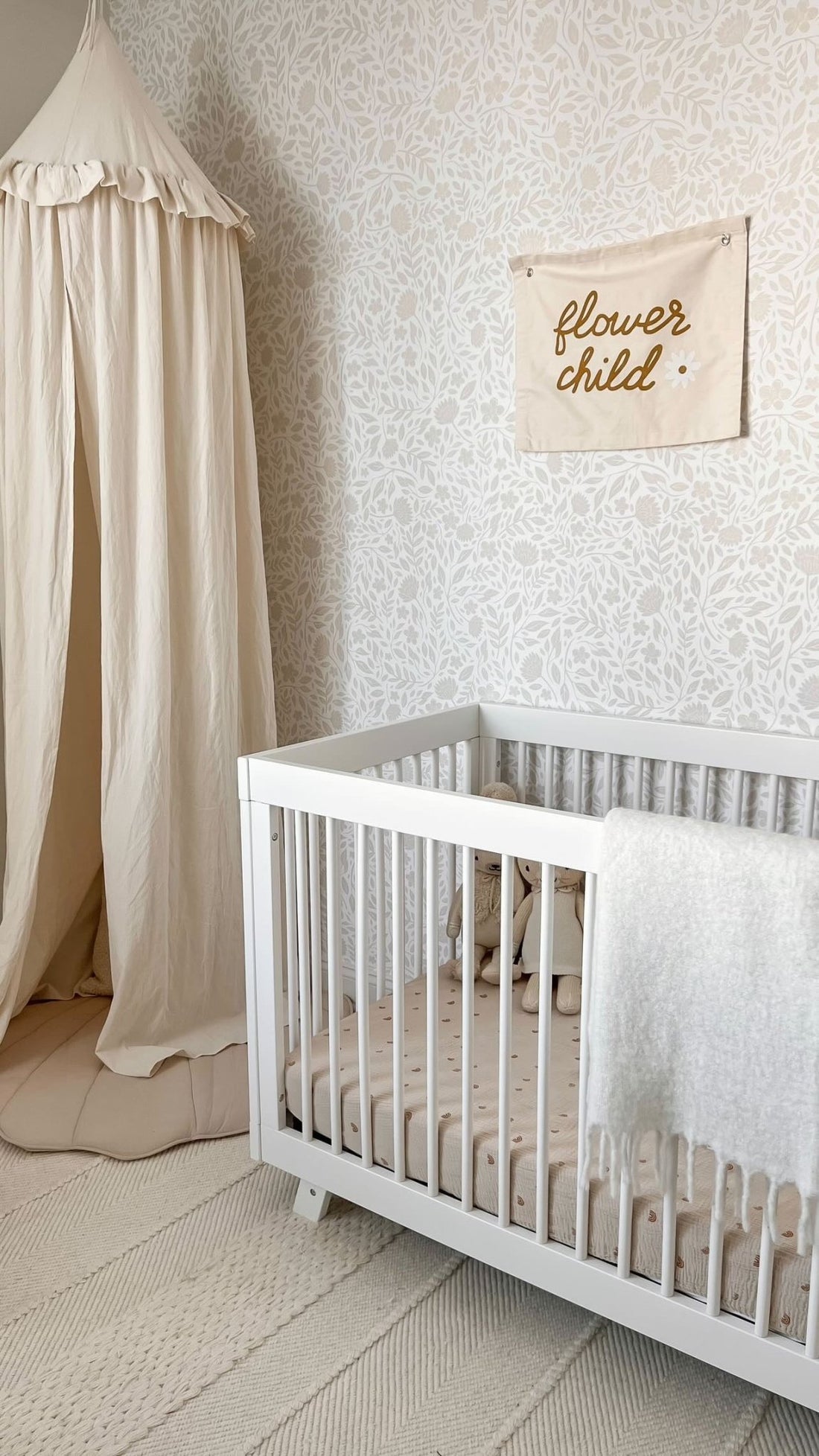 Photo Credit: @carolinacfon|  Peel and Stick Wallpaper Design: Cream Blossom

If you're looking for a quick and inexpensive way to upgrade your home's decor, removable wallpaper is a great option. With hundreds of designs and colors to choose from, you can easily create an eye-catching space without spending a lot of money.

Photo Credit: @this.season.of.lifee  |  Peel and Stick Wallpaper Design: Thornhill


Here's how to get started
To get started with removable wallpaper, you'll need some basic supplies. Start by measuring the walls you'll be covering, then buy an appropriate amount of wallpaper to accommodate that measurement. (Have you tried our handy calculator?) Once you have your supplies in order, carefully read and follow the product installation instructions for the best results.
Before you get started check for any imperfections. Patch up any cracks or holes in the wall, sand down any large bumps and cover any blemishes with a primer and paint before you begin. Be sure to properly clean your walls with a damp cloth 24 hours prior to installation. Then, it's time to start installing the wallpaper. Lay out all of your peel and stick wallpaper sheets in order to ensure you have exactly what you need. Install your wallpaper one sheet at a time from left to right. Apply even outward tension on the sheet as you use our provided squeegee to apply the wallpaper onto the wall and push all of the air out to the seems. If you run into any obstacles like windows, doors or outlets, simply use a sharp utility knife to cut around those. Finally, trim off any excess wallpaper along molding lines.
Choose the Right Pattern and Color
Choosing the right wallpaper color and pattern will make a huge difference in bringing any room together. Consider the style of furniture and decor already in the room for inspiration. Patterns are available in neutral colors, ranging from solid shades to more adventurous prints that can take center stage. If you'd like your peel and stick wallpaper to blend into the background, opt for a subtle pattern or texture. If you're looking for something more eye-catching, go bold with bright colors or unique geometric shapes.
Ensure that the wallpaper pattern coordinates with the decor in your room. When selecting a pattern, it's important to keep in mind the wall size and remember to find one that will create an interesting and dynamic look. If you want things like art and furniture to stand out, select a more subtle wallpaper with minimal detail or texture, whereas if you want the walls to be the focal point of your room, use removable wallpaper with bold patterns or prints. With removable wallpaper, you can switch up your look whenever inspiration hits!
Assess Your Wall Situation
Before deciding on removable wallpaper, it's important to assess your wall situation. If you have any damaged walls or peeling paint, these should be fixed before applying the wallpaper. Make sure all the surfaces are smooth and clean so that the adhesive will stick properly. Also, if you plan on using multiple sheets together to cover a large area, make sure they match up in color and pattern for an even look.
It's also important to check the quality of the wallpaper. Removable wallpaper from Rocky Mountain Decals will not cause any damage when removed as long as walls were properly primed and painted. If the wallpaper quality is low, it can leave residue on your walls or damage them. Make sure you read the product reviews before making a purchase, as this can make all the difference in how successfully you are able to apply this type of wallpaper.
Measure your Walls and Cut Your Paper
Removable wallpaper is available from Rocky Mountain Decals in pre-cut sheets ready for installation. These sheets are custom printed for the size you've ordered, so you should only have to trim excess along the ceiling and baseboards. The peel and stick wallpaper sheets will line up next to one another from top to bottom but no overlap between sheets
Hang up any trims or borders after everything else is done and you're good to go! Removable wallpaper is an inexpensive way to instantly transform any space into a work of art without breaking the bank.


Photo Credit: @rockymountaindecals  
|  Peel and Stick Wallpaper Design: 
Powder Pink Forest Trees Toile


Prep Your Wall and Start Applying Your Wallpaper 
Before applying your wallpaper, it's important to make sure the wall surface is properly prepped. Start by wiping down the walls with a cloth and water and then let them dry completely. You may also need to do a bit of repairing if necessary, such as filling in gaps in the wall, using spackle or caulk. Be sure to cover anything spackled with paint/primer. Once the walls are clean and smooth, start by applying wallpaper at a corner and working your way outward until you complete one full length of wall.

One of the great things about removable wallpaper is that it's so easy to apply. With regular wallpaper, you typically use adhesive and then smooth out any air bubbles with a smoothing tool until the paste hardens. But with removable wallpaper, you don't need to worry about adhesives– all you have to do is peel the backing off the paper and stick it directly on the wall. You'll be able to adjust as you go, so if an edge isn't sticking properly or there are any gaps between two pieces of paper, just readjust until it looks good. Plus, when it comes time for removing your removable wallpaper at some point in the future, all you need to do is gently start peeling off one corner and pull back slowly until it starts coming away from the surface.


Photo Credit: @mamaswildpeach  
|  Peel and Stick Wallpaper Design: 
Lichen Green
Subscribe to our newsletter and be the first to know about new designs, sales and see more blogs like this!