How to Achieve a Cool Terrazzo Look in Your Bathroom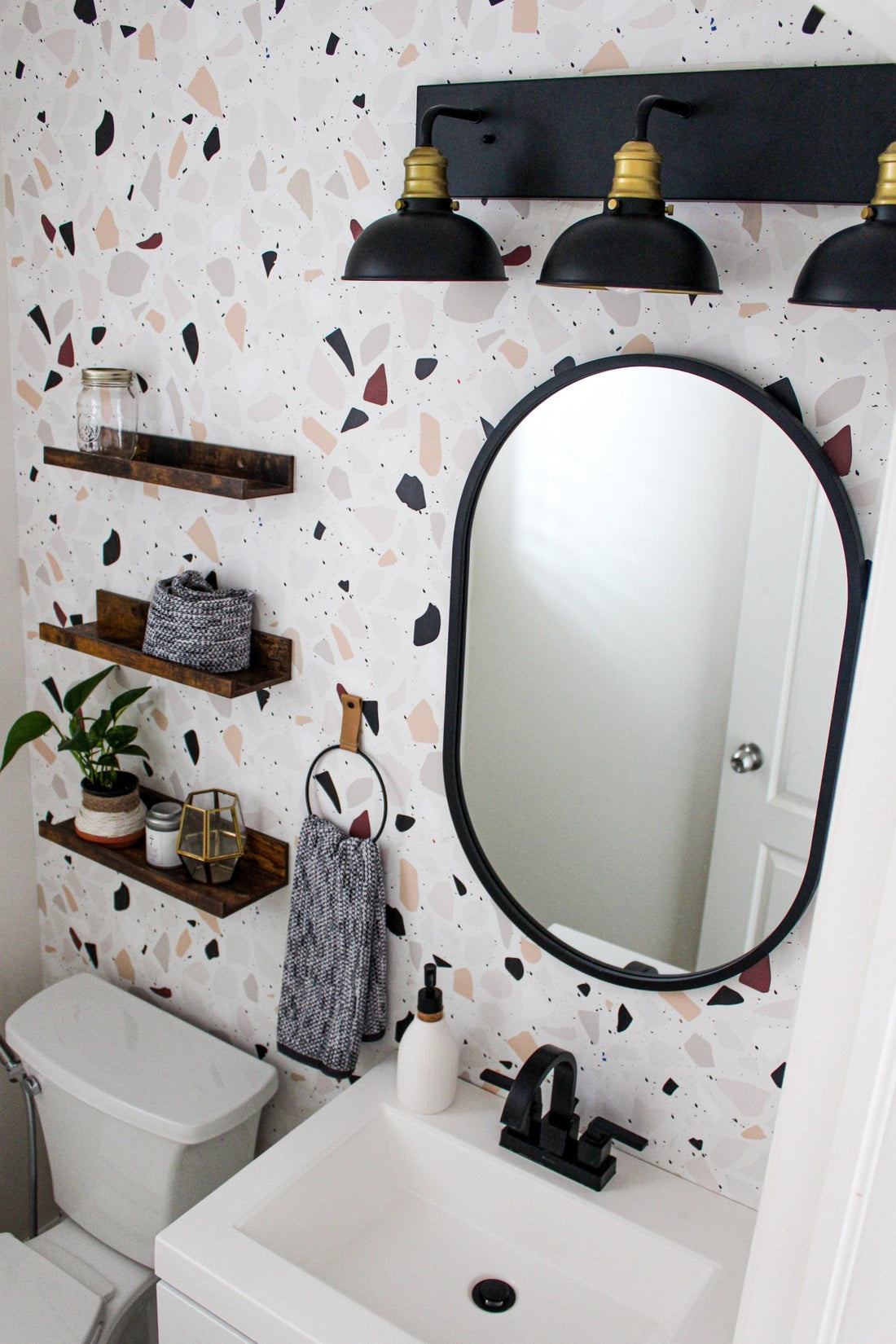 All Photo Credits: allthatshedreamed  |  PEEL AND STICK WALLPAPER: Terrazzo


Looking to make a statement in your bathroom? Terrazzo wallpaper is the perfect way to add some subtle flair and luxury. From choosing the right wallpaper pattern, to selecting the right pieces of décor, we've got all you need to know about aesthetics and styling a modern terrazzo bathroom.
Choose the Right Wallpaper
The first step in achieving a terrazzo look for your bathroom is to choose the right wallpaper. Look for a high quality, textured terrazzo pattern that will last you years and will create the perfect backdrop. A classic white and grey marble tone is always timeless, but if you are feeling adventurous, look for bolder colour combinations like blues and greens for a stylish nod to the '70s trend.
Calculate the Amount of Wallpaper You Need
Knowing how much wallpaper you will need for your terrazzo makeover is crucial to the process. Take accurate measurements of the walls that you intend to cover and make sure to factor in windows and other obstructions. Make sure that you buy enough wallpaper rolls to cover the entire wall and a little extra just in case, as some wallpaper rarely comes pre-cut.
Consider Complementary Accessories and Fixtures
Once you've got the wallpaper up and the color scheme of your terrazzo bathroom finished, it's time to start thinking about complementary accessories. Look for mirrors, sinks, faucets, bathtubs and showerheads that coordinate with your design. You can find classic or modern fixtures in a variety of finishes to match the look and feel of your bathroom.
Ensure the Right Level of Durability for Your Space
Durability is key when selecting the right types of tiles and accessories. Although the terrazzo wallpaper is a good starting point, it's important to pair it with furnishings that fit the same rugged look. Consider stains and water resistant materials for your countertops, floors, sink, bathtub and shower ledge. Additionally you will want to choose long-lasting and easy-to-clean materials for window treatments and towels to ensure a lasting terrazzo look in your bathroom!
Subscribe to our newsletter and be the first to know about new designs, sales and see more blogs like this!