Quick & Easy IKEA Hack: Transform a Bookshelf with Gorgeous Peel and Stick Wallpaper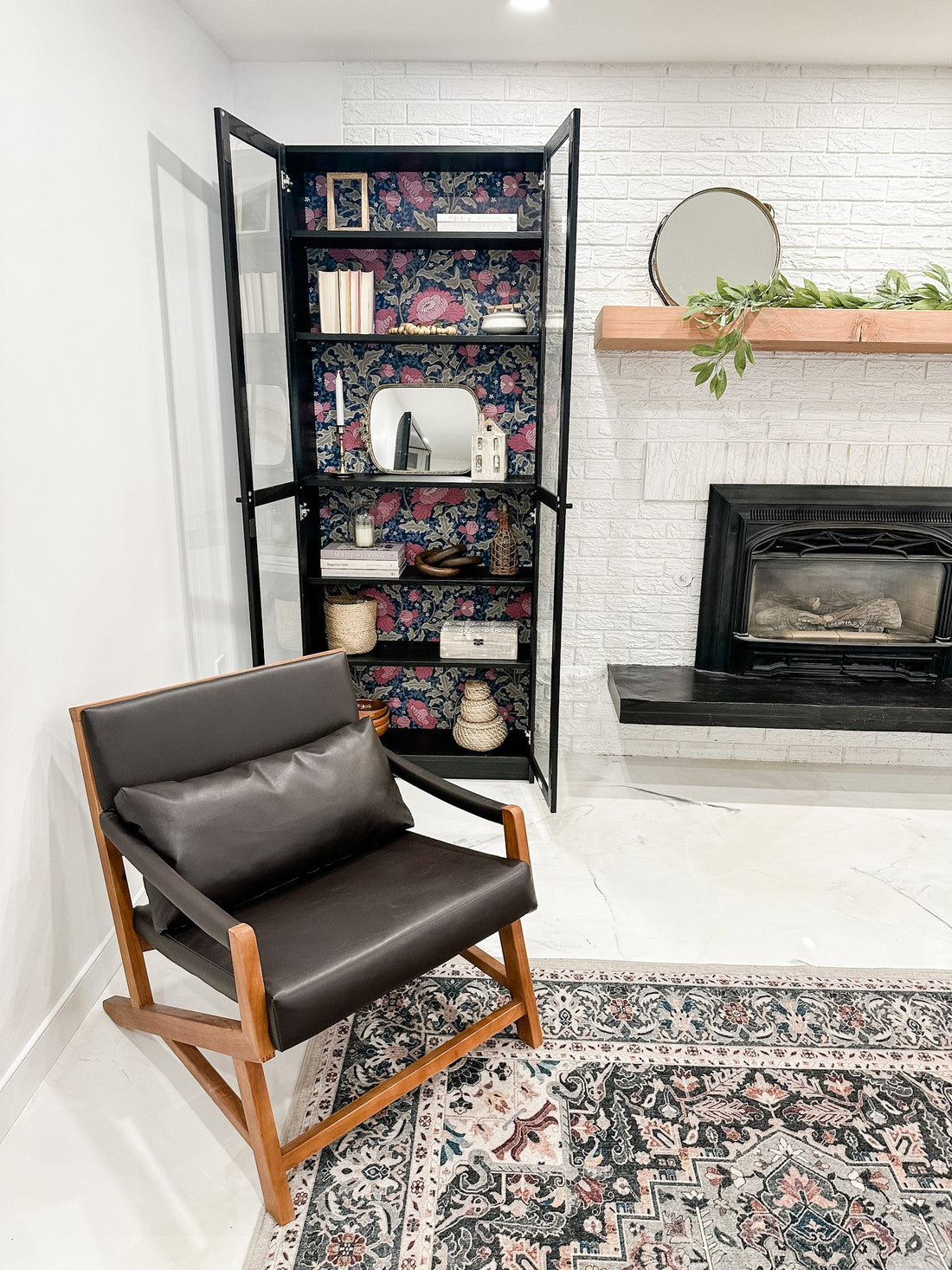 Have you tried using our peel and stick wallpaper for different DIY projects? The possibilities are endless! We decided to use our tulip wallpaper to give the popular Billy bookcase from IKEA a facelift. We love how it turned out, and we especially love the pop of color. It adds pizazz to an otherwise, regular bookcase!
IKEA furniture is a fantastic way to furnish a home on a budget, but sometimes it can feel a little too basic or generic. That's where this quick and easy hack comes in! By using peel and stick removable wallpaper, you can transform a plain IKEA bookshelf into a stylish and unique piece of furniture that will elevate any room.
So, if you're looking to add some personality to your IKEA furniture, this hack is definitely worth trying. Not only will it save you money, but it'll also add a touch of personality to your home.
In this article, we'll walk you through the materials and steps you'll need to create your stunning bookshelf hack.
Materials You Will Need:
Benefits of Our Removable Wallpaper Bookcase Hack
So many of the renovation projects you see online are complex and require hours or even days to wait for glue or paint to finish up before moving along. This straightforward wall paper peel and stick solution is an excellent way to spruce up your home, office, or vacation rental with a more unique flair you and your guests will love.
There are several reasons why someone might want to redecorate a bookcase using peel and stick wallpaper:
Personalization: A bookcase is often a focal point in a room, and by redecorating it, you can make it truly your own and reflect your personal style.
Functionality: A redecorated bookcase can serve as a statement piece in a room and can be used to complement existing decor or to add a pop of color to a neutral space.
Cost-effectiveness: Redecorating a bookcase with peel and stick wallpapers is a cost-effective way to update furniture. It's cheaper than buying a new piece of furniture and can add a new look to a room.
DIY: It's a simple and easy DIY project that can be done with minimal tools and skills, and it can be a fun and rewarding experience.
Versatility: Peel and stick wall paper comes in a wide variety of colors, patterns, and designs, so you can use it to create a look that is entirely unique and tailored to your taste.
Space saving: Redecorating a bookcase can help to increase storage space and make it more functional by creating a more visually pleasing and organized storage space.
This project is the perfect way to add your bestie or kiddo as a helper. You can spend some quality time with someone you appreciate and see the rewards of your efforts every day in your sitting room, bedroom, or anywhere else you want the newly redecorated bookcase to go. Let's get started!


How to: Peel and Stick Wallpaper your IKEA Bookshelf
Step 1: We chose our beautiful tulip removable wallpaper for the backing of our IKEA bookcase because of the dramatic tudor-style design reminiscent of an old library. All we had to do was line up the right side of the wallpaper to the edges as straight and neat as possible (this is where a second pair of hands is helpful).
We used two sheets of peel and stick wallpaper, so take your time and get both sheets lined up evenly to avoid any continuity issues. Don't worry! Even if you have a minor slip, you can usually hide it behind books or decor on your shelves.
Step 2: Carefully using the X-Acto knife, trim the excess peel and stick on wallpaper. You can place this in the trash, but we tend to hang onto our extra pieces. You never know when a few scraps of easy-to-use wall paper peel and stick can add flavor to other DIY projects around the house.
Step 3: Now for the real fun. Patiently peel the backing away and slide the wallpaper into place along the back of the bookcase. We found that starting at a corner worked the best to avoid any ripping. Again, a second pair of hands comes in "handy" (get it?)!
Step 4: Pro tip, you may want to run a ruler or wallpaper squeegee down the wallpaper in case bubbles or seams need smoothing.
That's it! Now you will have a beautifully customized bookshelf because of some unique peel and stick removable wallpaper. Once you finish this DIY project, you may look around at other bookcases in the house. If you do, try out any other wallpaper styles from Rocky Mountain Decals. It's a lot of fun to mix and match based on your room of choice.
Wrapping it Up
And there you have it folks! A quick and easy hack that will take your IKEA bookshelf from drab to fab in no time! This hack is a game-changer for those who want to add a touch of personality to their home without breaking the bank. Plus, it's a fun and easy DIY project you can do on the weekend.
Now, let's take a moment to admire the final peel and stick wallpaper product. Isn't it just gorgeous? And the best part is you can customize it to your heart's desire. The possibilities are endless, thanks to the wide variety of wall paper available from dramatic floral designs to vintage designs to modern neutral designs.
So don't be afraid to get creative and make your IKEA furniture stand out. Whether you're a renter looking to add some personality to your space or a homeowner looking to refresh your decor, this hack is a surefire way to make your furniture feel like new.
Now it's time to grab a bookcase, a roll of wallpaper, and a cup of iced coffee, and get to work! And don't forget to share your finished product with us. We can't wait to see it. Happy hacking!"

PHOTO CREDIT: @ROCKYMOUNTAINDECALS | PEEL AND STICK WALLPAPER DESIGN: tulip
Subscribe to our newsletter and be the first to know about new designs, sales and see more blogs like this!