Can you use Peel and Stick Wallpaper in the bathroom? The answer is: Yes!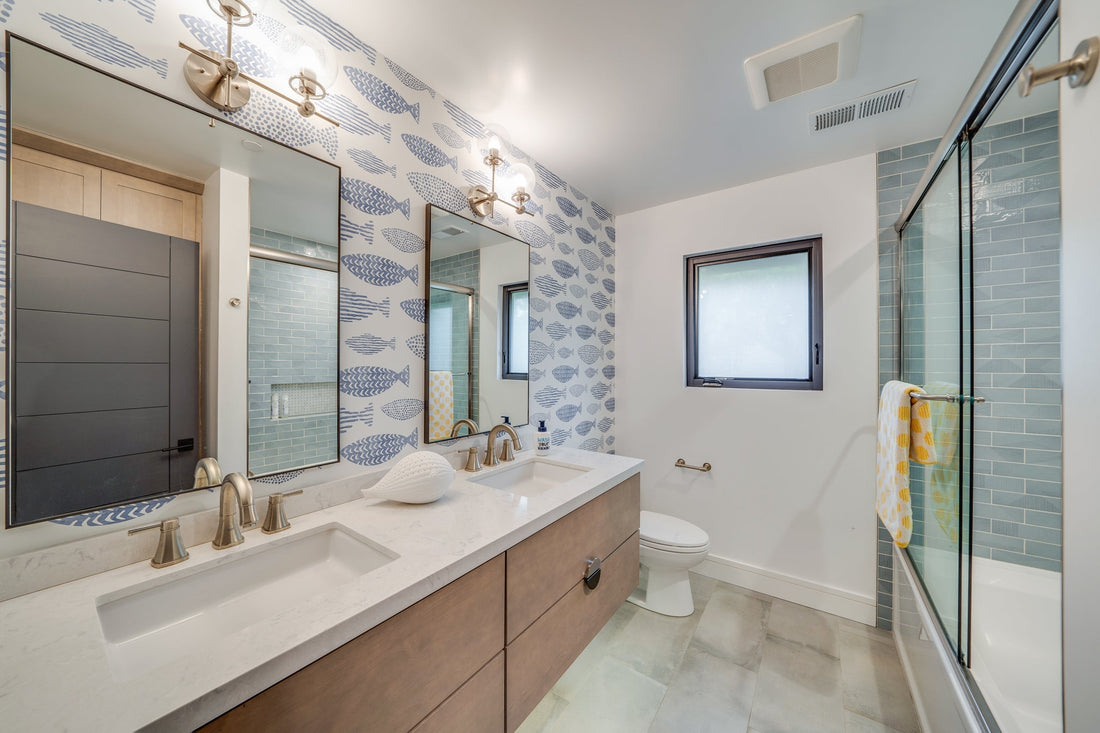 Photo Credit: @sarahrayeinteriors  |  Peel and Stick Wallpaper Design: Watercolor Fish
Gone are the days of boring bathrooms, simply there for function. People are putting more focus on creating spaces that bring them joy, and peel and stick wallpaper is the perfect way to do that. Peel and stick wall paper is a quick and easy DIY home project that can be completed in just a few hours. It is easily removable without damaging walls, extremely durable and has a major payoff. 


What makes our removable wallpaper perfect for bathrooms?

Rocky Mountain Decals offers high quality peel and stick removable wallpaper that is water resistant, wipeable, PBA free, PVC free and VOC free. When you're ready for a change, our wallpaper is easy to install and easy to remove.
Photo Credit: @
steph.pollock  

|  Peel and Stick Wallpaper Design: Goldie



Can Rocky Mountain Decals Wallpaper Get Wet?

Absolutely! That's not to say it's a good idea to install the wallpaper in your shower. Our removable wallpaper can handle being splashed but is not intended to be continuously wet. It's also good practice to provide a couple of inches of backsplash behind your sink to protect your wallpaper from pooling water. If you have a messy tooth brusher in your home, that's no problem! You can gently wipe away any dirt and grime from the wallpaper using a damp cloth. No chemicals or magic eraser are needed; in fact, those harsh forms of cleaning can damage the colour of your wallpaper.

 
Photo Credit: @ramagecreaturecomforts  |  Peel and Stick Wallpaper Design: Bloom - Rainforest
Things to consider before installing:
1. Is your bathroom well ventilated?
2. Are your walls smooth and free of texture?
3. Do you want to make a change?


If you answered yes to those questions, your space is a perfect candidate for removable peel and stick wallpaper. Your next step is to pick a design! Pick from designs ranging from grass cloth, to floral, to stripes, even butterflies! Did you know, you can see Rocky Mountain Decals wallpapers in your space before ordering by using our wall visualizer?
Unsure of how much wallpaper to order? Measure your wall(s) width and height in inches and input those measurements into our handy wallpaper calculator. This will help you figure out exactly how many sheets you will need to complete your project.
Photo Credit: @
mothermadeyou  

|  Peel and Stick Wallpaper Design: Briar - Pink



If your bathroom is extremely humid, with no ventilation, peel and stick wallpaper may not be the best option for you. If you are unsure if your bathroom is a good candidate for Rocky Mountain Decals wallpaper, order a sample! Our large wallpaper samples (11.5" x 30") are great for testing adhesion.

 
Photo Credit:
@life_of_glow

  

|  Peel and Stick Wallpaper Design: Designer Stripes

 

It's time to prepare your bathroom for wallpaper installation.

Step 1. Clean your walls (24 hours prior to installation). Simply grab a damp cloth and wipe down all walls that are going to be receiving a glow-up. Don't forget to really reach into those corners, we know they are tricky, but that's where the dust likes to hide!

Step 2. Remove any fixtures like lights, outlet covers, towel bars etc. that you don't want to cut around. (Wipe behind anything you remove!)

Step 3. Ensure your walls are 100% dry. We recommend avoiding use of the shower for at least 24 hours before installation.

Step 4. Lay out your peel and stick wallpaper sheets from left to right in chronological order. Ensuring you have enough wallpaper to complete your project.

Step 5. Install your wallpaper, cutting around obstacles with a sharp tip utility knife.

*Full wallpaper installation instructions are provided with every order and can also be found here!

 
Photo Credit:
 

@findingournextadventure  

|  Peel and Stick Wallpaper Design: Peony


Enjoy your beautiful new space!
Subscribe to our newsletter and be the first to know about new designs, sales and see more blogs like this!