Creating a Cowboy Kids Bedroom with Peel and Stick Wallpaper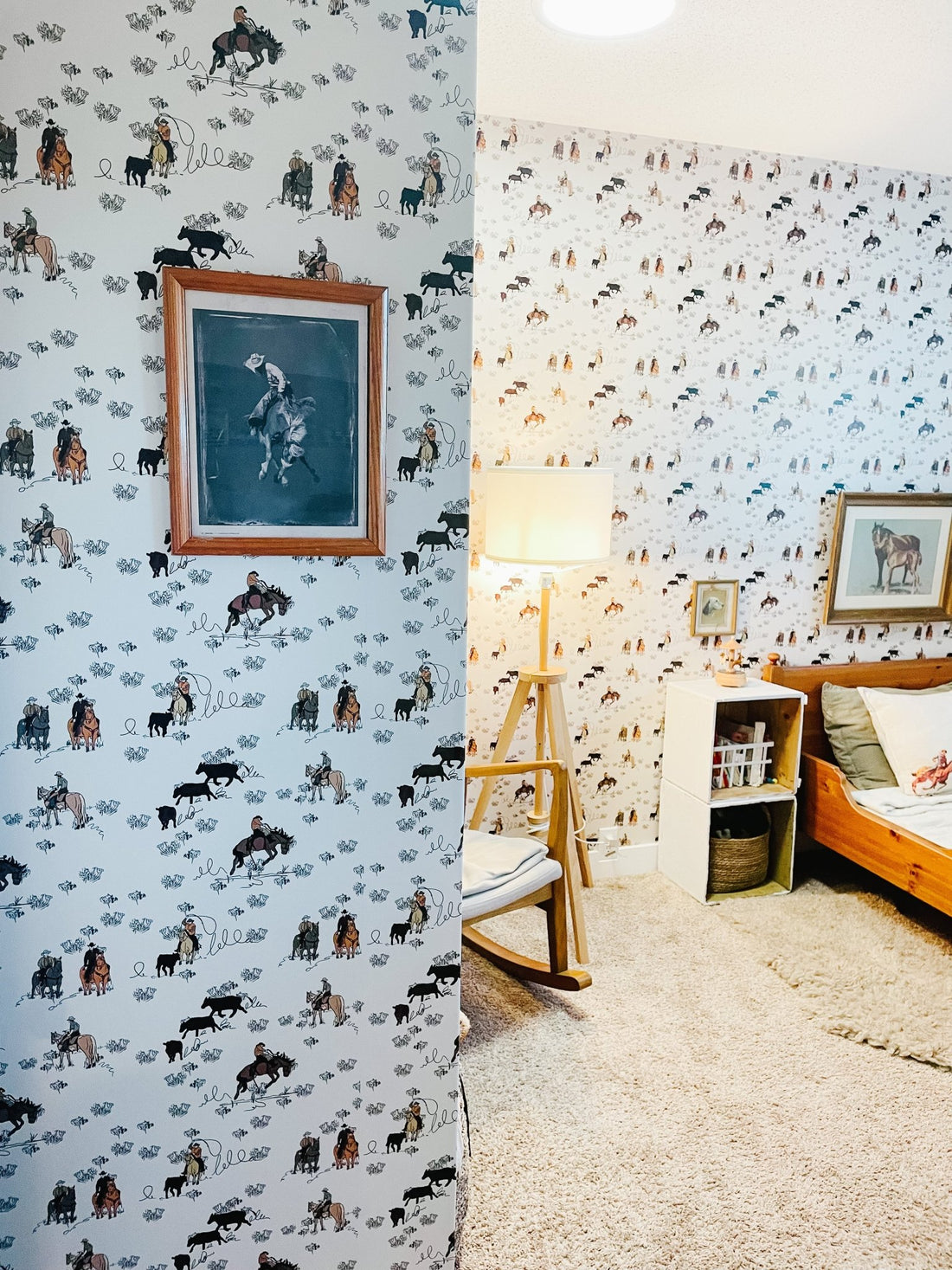 Yeehaw, little buckaroos! Does your child dream of riding off into the sunset, herding cattle, or exploring the Wild West? Then it's time to transform their bedroom into a cowboy wonderland. One of the easiest and most impactful ways to achieve this theme is by using custom peel and stick removable wallpaper, including cowboy wallpaper, western wallpaper, kids' room wallpaper, and boy nursery wallpaper.
Why Peel and Stick Removable Wallpaper?
Before we dive into the exciting world of cowboy-themed décor, let's talk about why peel and stick wallpaper is the perfect choice for your project. Our best quality peel and stick wallpaper is made with high-quality wall fabric. It is a game-changer in interior design, especially for kids' rooms. It's a temporary wallpaper that is easy to apply and remove, making it ideal for parents who want to switch up the room's theme as their child grows.
Choosing the Right Wallpaper
To start, you'll want to select the perfect peel and stick wallpaper for your cowboy-themed bedroom, whether it's cowboy wallpaper (linked here), western wallpaper (linked here), horse wallpaper (linked here), or boy nursery wallpaper. Consider our cowboy wallpaper, designed exclusively for Rocky Mountain Decals. Our custom design features iconic Western elements like cowboys, ropers, and cows. A color palette of earthy tones, denim blues, and rich browns will evoke the feeling of the Old West, and set the stage for the entire room.
Setting the Scene
Now that you have your peel and stick wallpaper, it's time to set the scene. Apply the wallpaper to a single accent wall, the entire room, or create a cozy reading nook or play corner with wallpaper on the lower half of the walls, topped with a chair rail for a true Western saloon feel. We found this antique bed on Marketplace (originally part of the Sunvik IKEA bed collection here) and filled it with comfortable bedding and cute pillows.
Accessories and Decor
Using a dramatic wallpaper makes accessorizing easy! Accessories and decor can be as simple as earth-toned bedding and pillows, to wooden furniture and western wall art. Level up the room's decor and sentimental value by including a photo of your family farm or your grandpa's old cowboy hat. If you don't have these, not to worry. Finding decor for a western theme room is as easy as taking a trip to your local thrift store!
Personalization and Fun
While we know the nursery is created to be a calming space for baby, parents want to be comfortable too. Add a western-themed throw blanket on your rocking chair for those late-night cuddles. Creating a cowboy kids' bedroom using peel and stick wallpaper is a creative and enjoyable project that will transport your child to the Wild West every time they step into their room. With the right kids room wallpaper, accessories, and decor, you'll have a space that's perfect for imagination, play, and adventure. So, saddle up and start decorating!
Subscribe to our newsletter and be the first to know about new designs, sales and see more blogs like this!