What's the Difference Between Traditional Wallpaper and Peel-and-Stick Wallpaper?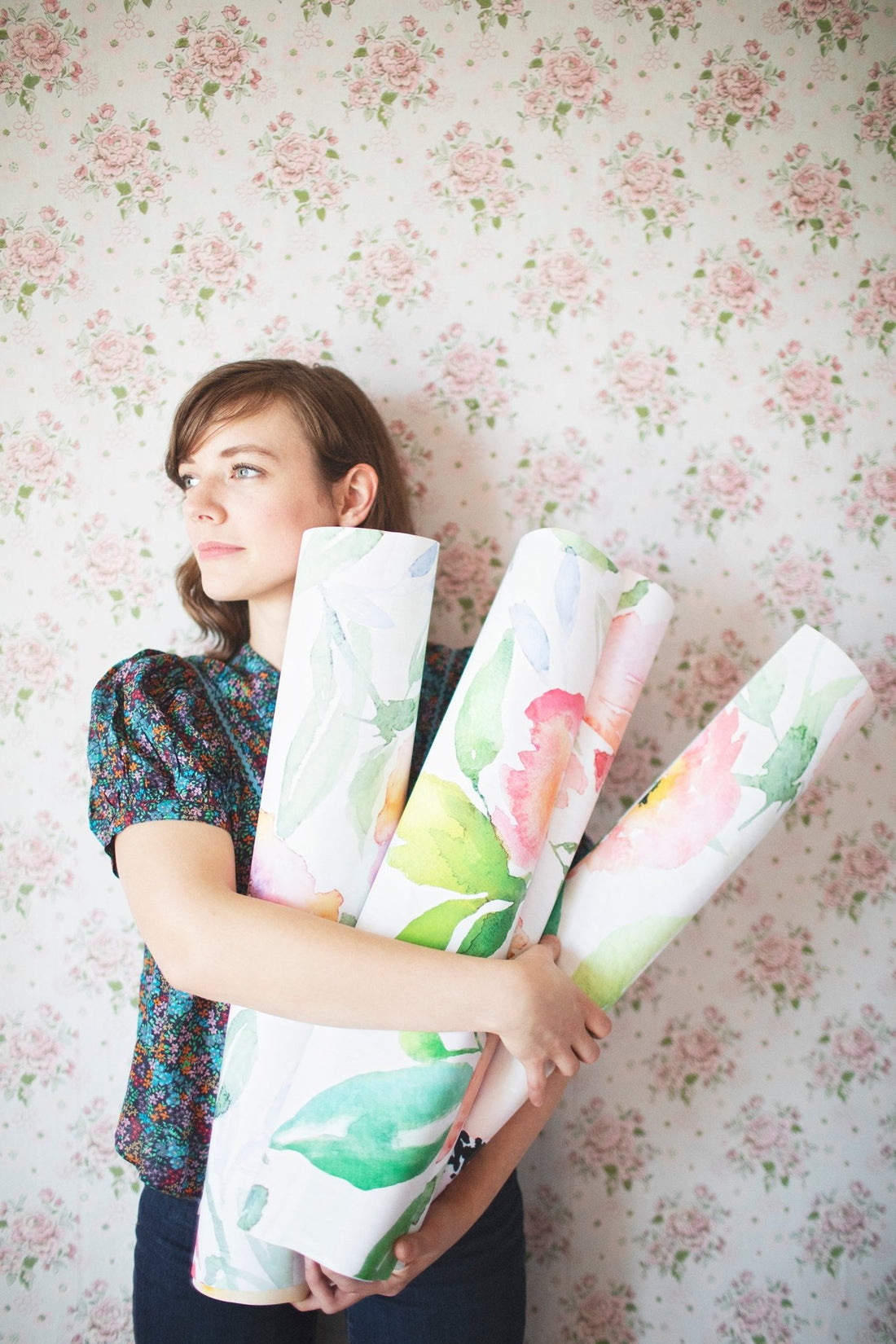 Wondering if peel and stick wallpaper is for you? In this article, we compare traditional wallpaper to peel and stick wallpaper so you can make the best decision for your home.
Are you looking to give your walls a fresh new look without the hassle of painting? Let's talk wallpapers! Wallpapers have gained massive popularity in the recent past owing to their versatility, bringing a wide array of colors, patterns, and textures to your indoor spaces.

Traditional Wallpaper Vs. Peel and Stick Wallpaper
Peel-and-stick removable wallpaper is a newer variation of wallpaper. In this article, we examine how the two compare to help you determine your best pick for your next home makeover project.
Installation
Traditional wallpaper requires an adhesive that can either be applied to the wall or the back of the paper during wallpaper installation. Peel-and-stick wallpaper eliminates this hassle by providing an application that is just as easy as it sounds; simply peel and stick the self-adhesive wallpaper onto the wall. This makes it DIY-friendly and eliminates the a significant portion of install work. You can check out peel and stick install instructions here. Traditional wallpaper takes a little longer to install but the results are just as beautiful.
Durability
Want to wallpaper an accent wall? Traditional wallpaper is typically more durable than the peel-and-stick variety. The glue used makes the wallpaper sturdy enough to withstand elements such as heat, cold, and humidity and can easily last a decade or even more.
That said Rocky Mountain Decals peel-and-stick wallpaper, whilst sometimes referred to as temporary wallpaper, is made from premium high quality fabric with a woven texture that holds up just as well as traditional wallpaper and stays in excellent shape year after year.
Removal
Removing traditional wallpaper involves a process of spraying/steaming to loosen the glue, then tearing it off bit by bit. If you're looking for an easily removable wallpaper for your accent wall, go for the peel-and-stick option. Its simple removal process leaves the walls intact, making it the most landlord-friendly wallpaper – tenants can beautify their walls without damaging the property. Check out our wallpaper removal tutorial here.
Give Your Home the Style It Deserves!
Rocky Mountain Decal offers a wide range of renter-friendly wallpaper to suit your taste and budget, as well as traditional wallpaper options. Grab some sheets today to give your house a vibrant new look with removable peel-and-stick wallpaper! From dark green wallpaper to soft pink wallpaper, Rocky Mountain Decals offers 100s+ of super cute designs including bathroom wallpaper, nursery wallpaper and bedroom wallpaper. From boho wallpapers to floral wallpapers to vintage wallpapers we have you covered. Check out our most popular wallpapers here to find the perfect design for every style of home decor.
Wallpaper Samples
Still unsure whether you would like to stick with traditional wallpaper or try peel and stick wallpaper? Grab a wallpaper sample swatch here to try on your walls at home. Want to check out our samples online? Click to view this video on unboxing wallpaper samples. With over 1000+ 5 star reviews, Rocky Mountain Decals is the leading wallpaper brand for premium quality and unmatched customer service, shipping to over 100 countries and printed to order for every customer ensuring a perfect match every time.
Subscribe to our newsletter and be the first to know about new designs, sales and see more blogs like this!