Easy DIY Christmas gift wrap tutorial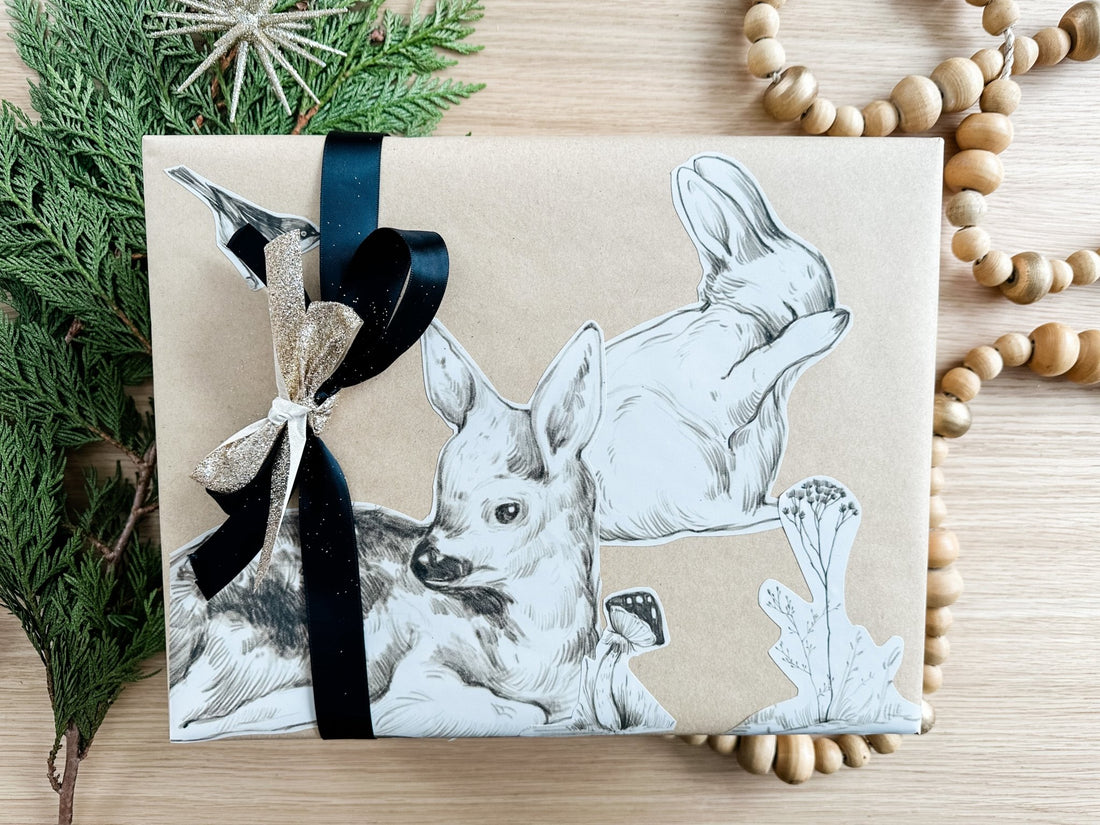 With the winter holidays are around the corner, the gift list just seems to keeps on growing! If you love doing Christmas DIY crafts, don't want to buy new rolls of gift wrap paper for the presents and want to go for an eco-friendly option, let's wrap up the year with the ultimate Christmas gift wrap tutorial!
This year, instead of wasting wrapping paper, we are all about DIY-ing it! When you decide to wrap a present for that special someone simply grab some of your leftover peel and stick wallpaper. All you need to do is wrap gifts with plain brown paper and strategically place a bow whenever needed. Then with a little bit of rearranging, playing around with some greenery, adding a bit of sparkle and sticking on some of your leftover peel and stick wallpaper you can create a beautifully wrapped parcel for family and friends.
A bonus to all this is that you reduce waste, and you get to have fun while bringing out your creative side!


First things first – see what you already have


When it comes to creating DIY Christmas wrapping paper, the first thing you should look for is things laying around your home. This can be anything from velvet ribbons to dried floral décor to cute washi tape to leftover floral wallpaper. You can take it a step further and look through your old magazines, calendars, and maps too as well as any glitter, pretty paints and rustic strings.
For those who have children, you can get even more creative! Don't throw out their artwork, but incorporate it into your DIY gift-wrapping. The idea is to recycle any type of paper that you have in your home. You can even put the brown paper bags to good use (or any other type of packing material).
Next step – go for an eco-friendly option
The tape is another important bit of the entire holiday craft process. If you are looking for an alternative to replace ordinary plastic tape, look for washi tape. This biodegradable option will take your gift-wrapping skills to the next level. There are so many colorful patterns to decorate your gifts with little to no effort.
Another eco-friendly option for Christmas gift wrap material found by taking a step outside and looking for things you can find in nature. When we say that, we mean any sprigs from evergreen trees, pine cones, berries, and any other natural type you think you can use. These will provide beautiful natural personalization to your gift and let the person know that you have tried very hard to wrap their present and make it extra special!
Furthermore, you can use strips from leftover fabric to help you create a wonderful DIY gift wrap with little effort and maximum results. Plus, this alternative to plastic ribbon looks much more intimate and thoughtful and can create a stunning vintage vibe.
Easy crafts for Christmas



With all these fun ideas to add style and elevate your gift wrap game, we have an easy  step-by-step tutorial on how to wrap a present and add a little bit of magic to it! We had some of our tiptoe meadow wallpaper that we decided to wrap up a cute little Christmas gift for a special someone!
Take your gift and wrap it in simple brown craft paper.

Grab your leftover wall paper (we used tiptoe meadow design here) and simply cut out the adorable little woodland animals, and some of the botanical aspects to it as well like the mushrooms and woodland birds.

Now place your new wall stickers on the gift wrap where we think they would look best. We did some rearranging, and playing around with the look we were going for. Once we settled on the placement, simply just peel off the protective backing, and stick it to the gift!

Finally, add a black and gold bow for an extra added sparkle and ta-da! You've DIY wrapped a gift in minutes!

PHOTO CREDIT: @ROCKYMOUNTAINDECALS | PEEL AND STICK WALLPAPER DESIGN:
tiptoe meadow
Furthermore, if you want to use leftover wallpaper to wrap the entire gift, rather than using brown craft paper check out another DIY gift wrap tutorial here!

To wrap things up (see what we did there!) if you are looking for incredible wallpapers for walls to elevate your interior and add an aesthetic touch, then click here to look at what we offer! Our designs would be a wonderful addition to your home decor, and set the perfect backdrop for your Christmas festivities!
Looking for more cute DIY hacks and tutorials? Have a look at these posts:
- IKEA step stool makeover hack
- Homemade Valentines DIY giftcards
- Super easy hack for creating your own gift wrap
Subscribe to our newsletter and be the first to know about new designs, sales and see more blogs like this!