Transforming a mouse dolls house with wallpaper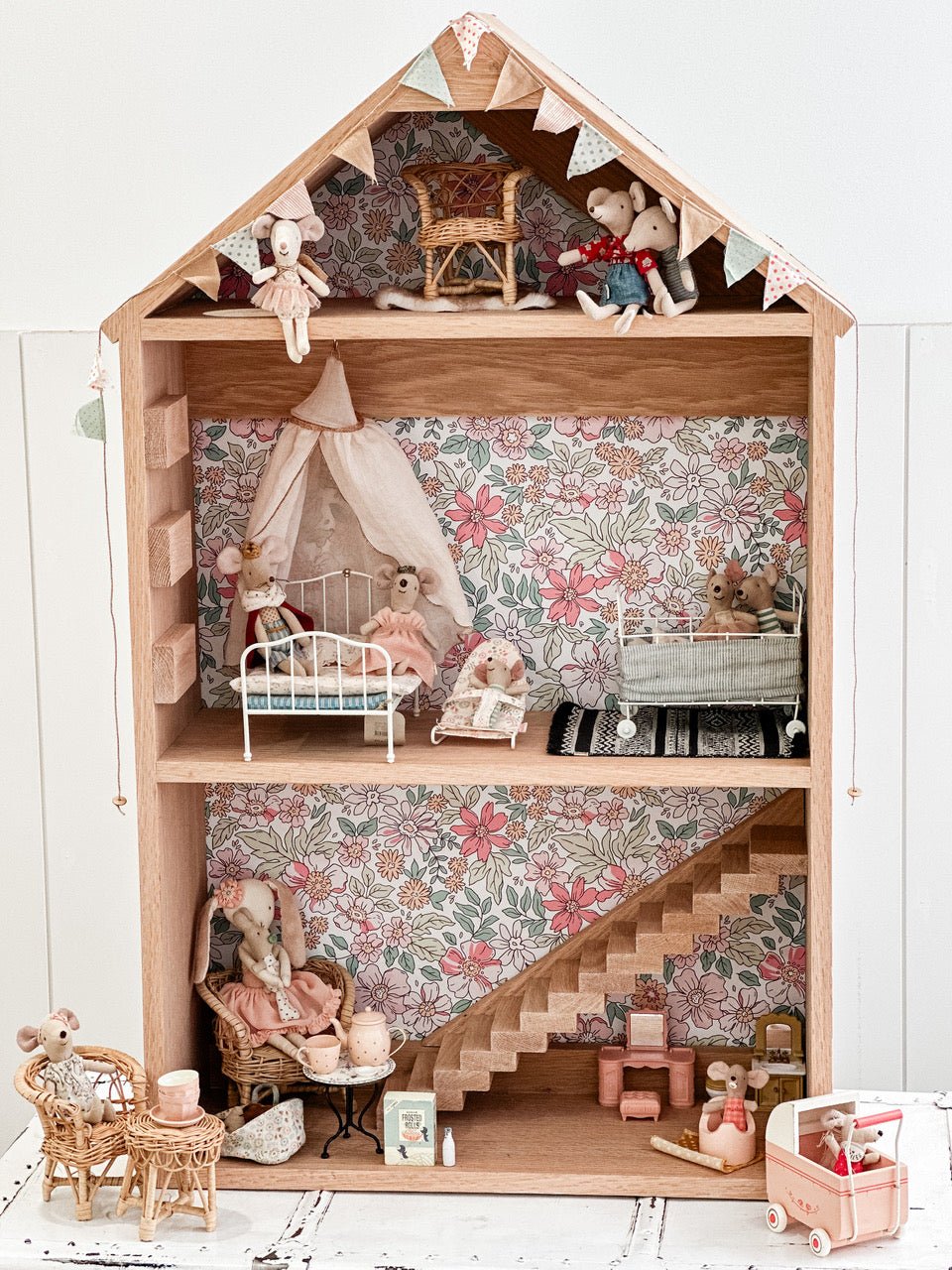 Nestled within the corners of our home was a wooden dollhouse. A treasure made by my husband for our daughter's early years (very similar to the viral IKEA FLISAT dolls house). Yet, as time passed, it sat in quiet solitude, gathering dust, its potential unexplored. Recently, a wave of DIY dollhouse inspirations captured my attention, prompting us to embark on an exciting wallpaper repurposing endeavor – breathing new life into this neglected gem for our little collection of mice toys and furniture.
Venturing into the recesses of our storage closet, we carefully lifted the veil of time, clearing away the cobwebs that had woven around our daughter's dollhouse. Armed with a thin sheet of plywood, we embarked on crafting a custom wallpaper backdrop. In a great turn of luck, the dollhouse dimensions were a perfect match at exactly 24 inches, making it a cinch to repurpose leftover Charlotte peel and stick wallpaper.
Dainty and floral elegance were our guiding motifs as we embarked on the dolls house transformation. The wallpaper's protective backing was carefully peeled away, exposing the adhesive on our peel and stick wallpaper. With care, we positioned it onto the plywood board, which was going to become the backdrop for the dollhouse's interior. The peel and stick nature of the wallpaper is forgiving – we were able to remove it and reposition as needed. Once we were happy with the wallpaper's placement, we trimmed any excess and secured the plywood snugly onto the dollhouse with screws. (Having access to our nail gun would have been ideal for this!)
Admiring our handiwork, we couldn't wait for the final phase: Our beloved little mice and their small trinkets! Carefully arranging each piece, we created scenes throughout the dollhouse. Our children were genuinely over-the-moon when they saw the transformed miniature world, making the DIY project well worth it's while.

May our simple project inspire your creative journey. Peel and stick wallpaper is a versatile tool for DIY projects beyond just dollhouses; its potential is as vast as your imagination. We would love for you to share your own doll house transformation for Maileg mice with us! The possibilities are truly limitless.
Subscribe to our newsletter and be the first to know about new designs, sales and see more blogs like this!