Boho Kids Room Decor: The Latest Trend and How to Embrace It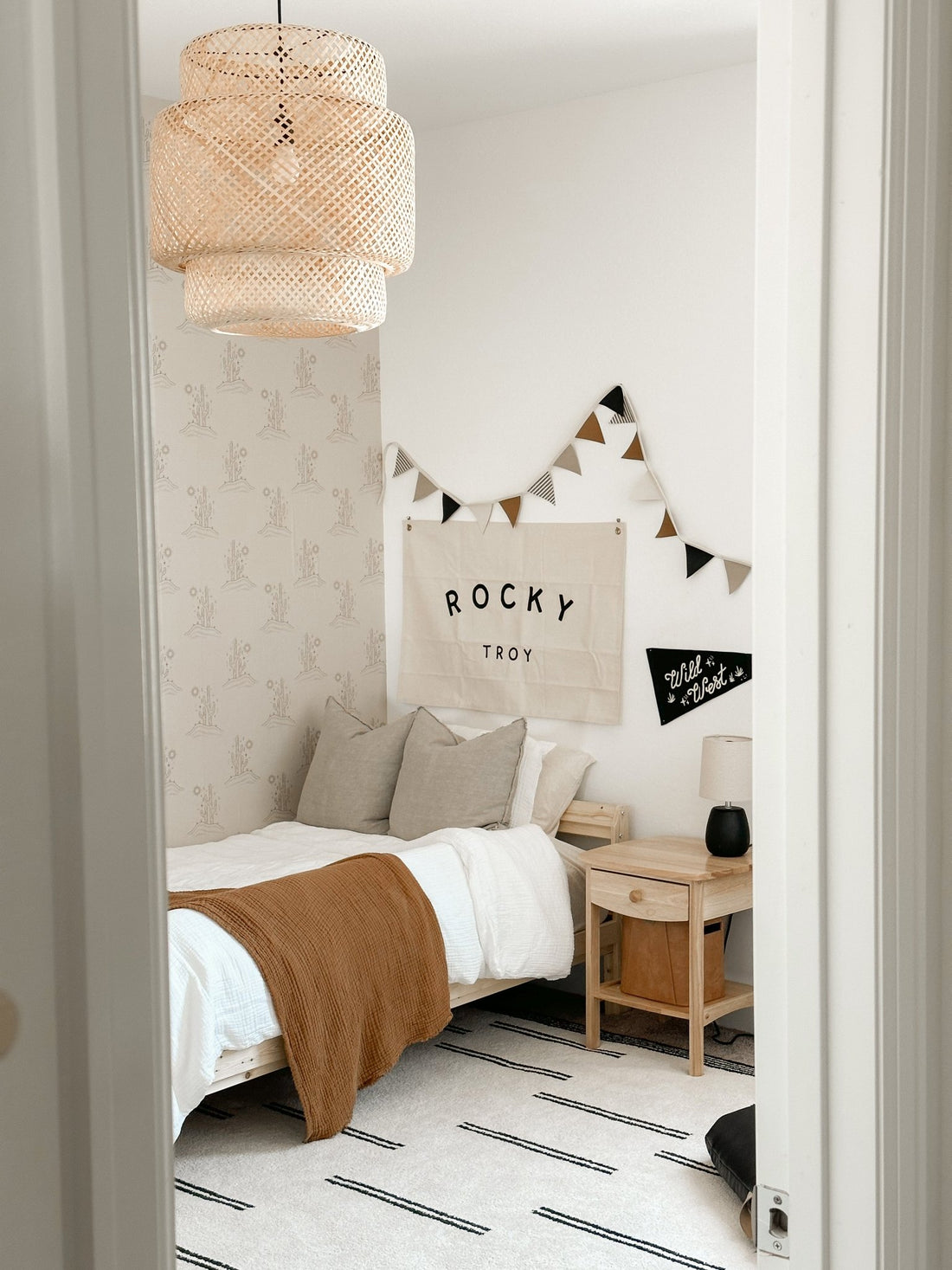 All Photo Credits: @kileanryeel  |  PEEL AND STICK WALLPAPER: Rocky's Trail
Are you looking to create a calm but imaginative space for your child? Look no further than Boho Kids Room Decor, the latest trend for kids rooms. With its peaceful blend of patterns, textures, and neutral colors, boho style infuses creativity and adventure into any room.

Boho Kids Room Decor fosters a relaxed and laid-back ambiance, providing children with a sanctuary that ignites their imagination and calms their soul.. By incorporating natural materials like rattan, macrame, and woven textiles, this design style weaves a cozy and organic atmosphere where your little ones can flourish.

Whether you're designing a nursery or revamping your child's bedroom, embracing the boho trend is a surefire way to create an enchanting space that sparks their creativity. In this article, we'll delve into the key elements of Boho Kids Room Decor and offer practical tips on how to incorporate this trend into your child's space, all within a concise 800-900 words.


Why Boho Kids Room Decor is the Latest Trend

Boho Kids Room Decor epitomizes a carefree and bohemian aesthetic, characterized by its eclectic fusion of patterns, textures, and colors. This approach creates a visually captivating and vibrant space for your child. From floor cushions and dreamcatchers to tapestries and rattan furniture, boho style seamlessly integrates diverse elements that add depth and personality to any room.

One of the defining features of Boho Kids Room Decor is the use of natural materials. Rattan, wicker, and macrame are commonly employed to fashion furniture and accessories that infuse a touch of bohemian charm into the room. These materials not only enhance visual appeal but also cultivate a warm and inviting atmosphere, perfect for relaxation and play.

Another hallmark of Boho Kids Room Decor is its relaxed use of earth-toned colors and patterns. From bold geometric prints to intricate floral designs, boho style revels in a playful and lively color palette. Mixing and matching different patterns and colors can craft a fun and visually stimulating space that your child will adore.


Characteristics of Boho Kids Room Decor

Boho Kids Room Decor offers several advantages for children. It champions a relaxed and laid-back atmosphere, unlike more formal and structured design styles. This freedom can nurture creativity and imaginative play, enabling your child to explore their interests and develop their unique personality.

Furthermore, Boho Kids Room Decor promotes coziness and comfort. The use of natural materials like rattan and macrame generates a warm and inviting ambiance, perfect for relaxation and rest. This proves particularly beneficial for children who may struggle with sleep or need a calming environment to unwind.

Moreover, Boho Kids Room Decor aligns with sustainable and eco-friendly design principles. By embracing natural materials and an organic aesthetic, you can create a visually appealing, environmentally-conscious space. This can impart essential lessons to your child about the significance of sustainability and caring for the planet.


Practical Tips for Embracing Boho Kids Room Decor

Now that you're ready to embrace the boho trend for your child's room, here are some practical tips to get you started:

Choosing a Color Palette for a Boho Kids Room

Boho style thrives on vibrant colors. Begin by selecting a palette comprising bold and lively hues—deep blues, rich greens, warm yellows, and vibrant pinks. Don't hesitate to mix and match different colors to craft a playful and visually stimulating atmosphere. Incorporate neutral tones like beige and cream to balance and add sophistication to the room. Our design 'Rocky's Trail' is a perfect addition to a boho style room.


Incorporating Natural Elements in Boho Kids Room Decor

An essential aspect of boho style is the use of natural materials. Integrate rattan furniture, woven textiles, and macrame wall hangings to infuse bohemian charm. Potted plants and fresh flowers can bring nature indoors, creating an organic and earthy ambiance. These natural elements not only enhance visual interest but also establish a sense of calm and tranquility.


DIY Boho Kids Room Decor Projects

If you're feeling crafty, consider undertaking DIY boho kids room decor projects. From macrame wall hangings to painted wooden signs, there are numerous fun and easy projects to explore. This approach not only saves you money but also adds a personal touch to the space. Encourage your child to participate, letting their imagination run wild as they contribute to their unique boho-inspired decor.


Where to Shop for Boho Kids Room Decor

For those who prefer buying over DIY, numerous places offer boho kids room decor. Look for online retailers specializing in bohemian-inspired furniture and accessories. Explore local thrift stores and flea markets for unique, one-of-a-kind pieces that inject character and charm into the room. Don't hesitate to mix old and new items to craft a genuinely eclectic and bohemian space.




Boho Kids Room Decor is the latest trend captivating both parents and children. Its relaxed ambiance, vibrant colors, and use of natural materials culminate in a whimsical and enchanting space for your child's growth and development. By incorporating elements like rattan furniture, macrame wall hangings, and playful color palettes, you can kindle your child's imagination and encourage creativity. So, embrace the boho trend and embark on a design journey that your child will cherish.
Subscribe to our newsletter and be the first to know about new designs, sales and see more blogs like this!