How to Prevent Peel and Stick Wallpaper from Falling off Walls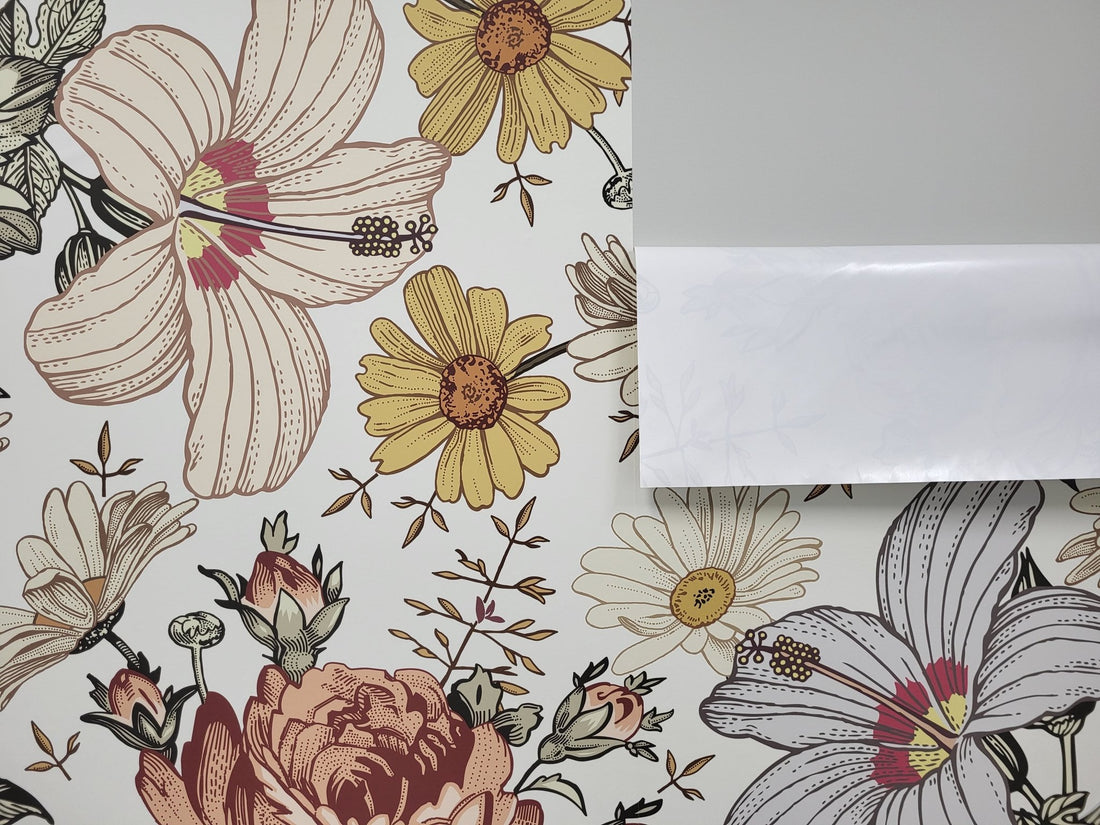 We could go on and on about the many reasons Peel and Stick wallpaper is a great way to upgrade your wall decor. Nevertheless, there are instances when self-adhesive, removable wallpaper might not adhere as expected or, worse yet, fall off the wall. To ensure that you don't encounter these issues, continue reading to see the most common causes behind these adhesive challenges.

1. Textured Walls

In our experience, this is the number one reason for adhesion issues! We never recommend installing peel and stick wallpaper on textured walls. Texture can affect adhesion because every bump creates potential pockets where the wallpaper isn't able to  completely stick to the wall. If you have highly textured walls, traditional wallpaper is the recommended route.
2. Unfinished Surface
If you plan on installing your peel and stick wallpaper on unfinished walls (drywall) or walls with spackle/mud, think again! Drywall is basically panels of gypsum, pressed between sheets of paper. Paper is not a strong enough finish for removable wallpaper adhesive to grab onto. The same rule applies for mud/spackle as it is is basically dust and the wallpaper will not adhere.
3. Unclean Walls
Have you installed peel and stick wallpaper in a freshly constructed home? You wouldn't be the first one who assumed that your new home was impeccably clean and skipped the wall cleaning step. In reality, even in new homes, there can be a significant accumulation of dust carried through the vents. It is crucial to meticulously wipe down your walls with a damp cloth several hours before your wallpaper installation. Pay special attention to the uppermost part of the walls, as this is where your adhesion begins, so many sure you take those extra few minutes to set yourself up for success.

4. Fresh Paint
After painting a wall, you need to wait for at least 4 weeks before applying any peel and stick wallpaper. Even if the paint appears dry, paints can emit fumes for weeks. Those fumes can create bubbles, possibly leading to it falling down and can and permanently damage the adhesive of your wallpaper.
5. Covering old Wallpaper
We do not recommend using peel and stick wallpaper to cover previously installed wallpaper. This situation has numerous variables and we couldn't assure that your surface will be an ideal candidate. In this instance, you could order one of our large wallpaper samples to test the adhesion. Please note, we do not guarantee our wallpaper for installs on anything other than smooth, flat, painted surfaces.
6. Environment
When installing peel and stick wallpaper, it is important to consider your environmental conditions. Namely, we are talking temperature. Do not install your wallpaper if it has not had time to to acclimatize to your space. You do not want to work with wallpaper that is too cold, or too hot. Let your peel and stick wallpaper sit in your home for a day prior to installing. Our wallpaper can handle colder days, it is made in Canada after all! That being said, we do not recommend installing it on walls that are not properly insulated or rooms that do not have temperature regulation. These variables may affect the adhesives performance. See our blog about installing wallpaper in Bathrooms for tips on how to get the most out of your wallpaper in that space!
Understanding and addressing these potential issues will help you enjoy a successful peel and stick wallpaper installation. Ensure that your walls are clean, in good condition, and free from any potential obstacles to make the most of your wallpaper transformation!  
Subscribe to our newsletter and be the first to know about new designs, sales and see more blogs like this!