10 Unexpected Ways to Use Wallpaper to Elevate Your Interior Design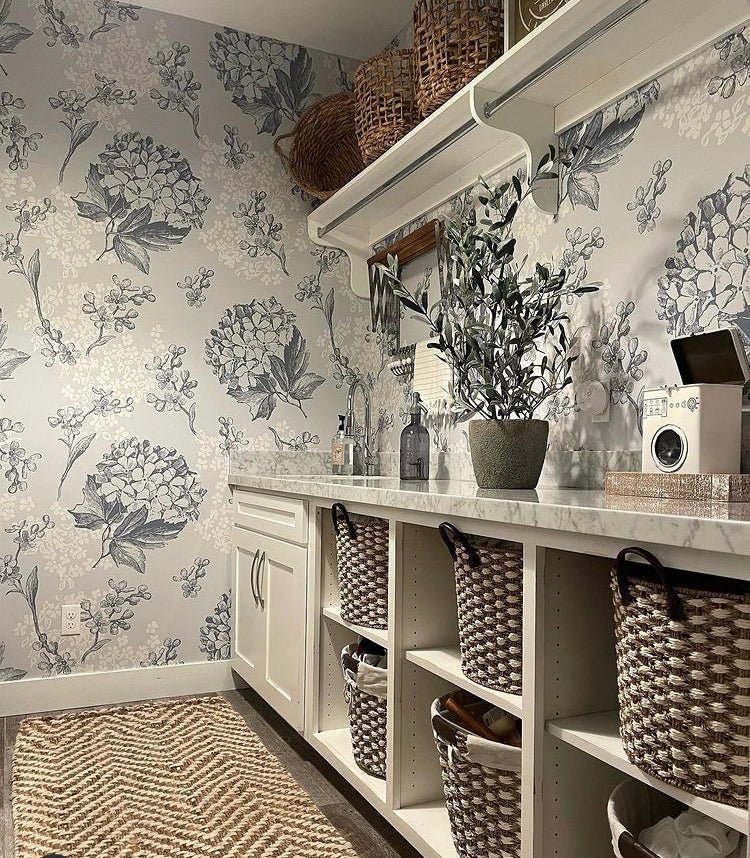 PHOTO CREDIT: @jenbryantdesign | PEEL AND STICK WALLPAPER DESIGN: Hearthstone
When it comes to interior design, wallpaper is often associated with covering walls in living rooms or bedrooms. However, there are countless creative ways to use wallpaper to elevate your home's interior. Join us as we share 10 unique and inspiring ideas to incorporate wallpaper into your home decor.
1. On the Ceiling
Don't limit your design choices to just the walls; take your interior to new heights by applying wallpaper to the ceiling. A beautifully patterned or textured ceiling can draw the eye upward, creating a sense of space and adding a touch of whimsy to any room.

PHOTO CREDIT: @alexandrabeuter | PEEL AND STICK WALLPAPER DESIGN: Summer Nights
 
2. In a Powder Room
Powder rooms are perfect for experimenting with bold patterns and textures. Applying bathroom wallpaper to this small space can transform it into a stylish and memorable oasis for your guests.
PHOTO CREDIT: @lindsaylemon | PEEL AND STICK WALLPAPER DESIGN: Secret Garden
 
3. As a Table Runner
Take your dining table from ordinary to extraordinary by using wallpaper as a table runner. Cut it to size and use it as a visually appealing and customizable centerpiece for your meals.
PHOTO CREDIT: @rockymountaindecals | PEEL AND STICK WALLPAPER DESIGN: Antique Flowers
4. In a Baby Nursery
Nurseries should be soothing and visually stimulating at the same time. Choose nursery wallpaper with gentle colors and playful designs to create a serene yet enchanting atmosphere for your little one.
PHOTO CREDIT: @edemasellis | PEEL AND STICK WALLPAPER DESIGN: Cloudy Sky
5. Behind a Bookshelf
Give your bookshelves a makeover by applying wallpaper to the back panel. This not only adds a pop of color but also highlights your cherished book collection, making it a focal point in your room. We love our exclusive wallpaper design (Classic Wallpaper linked here) for this purpose. 
PHOTO CREDIT: @rockymountaindecals | PEEL AND STICK WALLPAPER DESIGN: Classic Wallpaper
6. Above Wall Paneling
If you have wall paneling in your home, consider adding wallpaper above it. This creates a sophisticated contrast between the traditional paneling and the contemporary patterns or textures of the wallpaper.
PHOTO CREDIT: @oh.eight.oh.nine | PEEL AND STICK WALLPAPER DESIGN: Sage Helsinki
7. In an Entryway
First impressions matter, and your entryway sets the tone for your home. Make a statement by using wallpaper to create a welcoming and visually striking entrance.
PHOTO CREDIT: @rockymountaindecals | PEEL AND STICK WALLPAPER DESIGN: Peony
8. In a Playroom
Children's playrooms are the perfect canvas for vibrant and imaginative wallpaper. Opt for themes that ignite their creativity and make playtime even more enjoyable.
PHOTO CREDIT: @rockymountaindecals | PEEL AND STICK WALLPAPER DESIGN: Goldie
9. In a Closet
Turn your closet into a fashionista's dream with wallpaper. Lining the inside of your closet with a luxurious or glamorous design can make getting dressed feel like a special occasion every day.
PHOTO CREDIT: @hellominibianco | PEEL AND STICK WALLPAPER DESIGN: Juniper Blues
10. In Frames
Don't want to commit to wallpapering an entire room? Frame wallpaper samples or remnants to create unique pieces of wall art. Mix and match different patterns and sizes for an eclectic and visually appealing gallery wall.
PHOTO CREDIT: @jennasuedesign | PEEL AND STICK WALLPAPER DESIGN: Botanical Bliss

Incorporating wallpaper in these unexpected ways allows you to infuse your personality and style into your home's interior design. Whether you prefer subtle sophistication or vibrant playfulness, wallpaper can be a versatile tool to help you achieve your desired aesthetic.


When implementing these ideas, keep a few tips in mind:

• Choose wallpapers that complement the existing decor and color scheme of the room.
• Ensure proper surface preparation and application to achieve a flawless look.
• Experiment with different textures, from traditional paper to removable peel-and-stick options, to find what works best for your project.
• Don't be afraid to mix and match patterns and styles to create a personalized and cohesive design.


Wallpaper can be a transformative element in interior design when used creatively and unconventionally. From ceilings to closets, these 10 unexpected ways to use wallpaper can breathe new life into your living spaces, making your home a reflection of your unique style and personality. So, why limit yourself to plain walls when you can elevate your interior design with the power of wallpaper?
Subscribe to our newsletter and be the first to know about new designs, sales and see more blogs like this!