Floral Bunting Banner Craft with Peel and Stick Wallpaper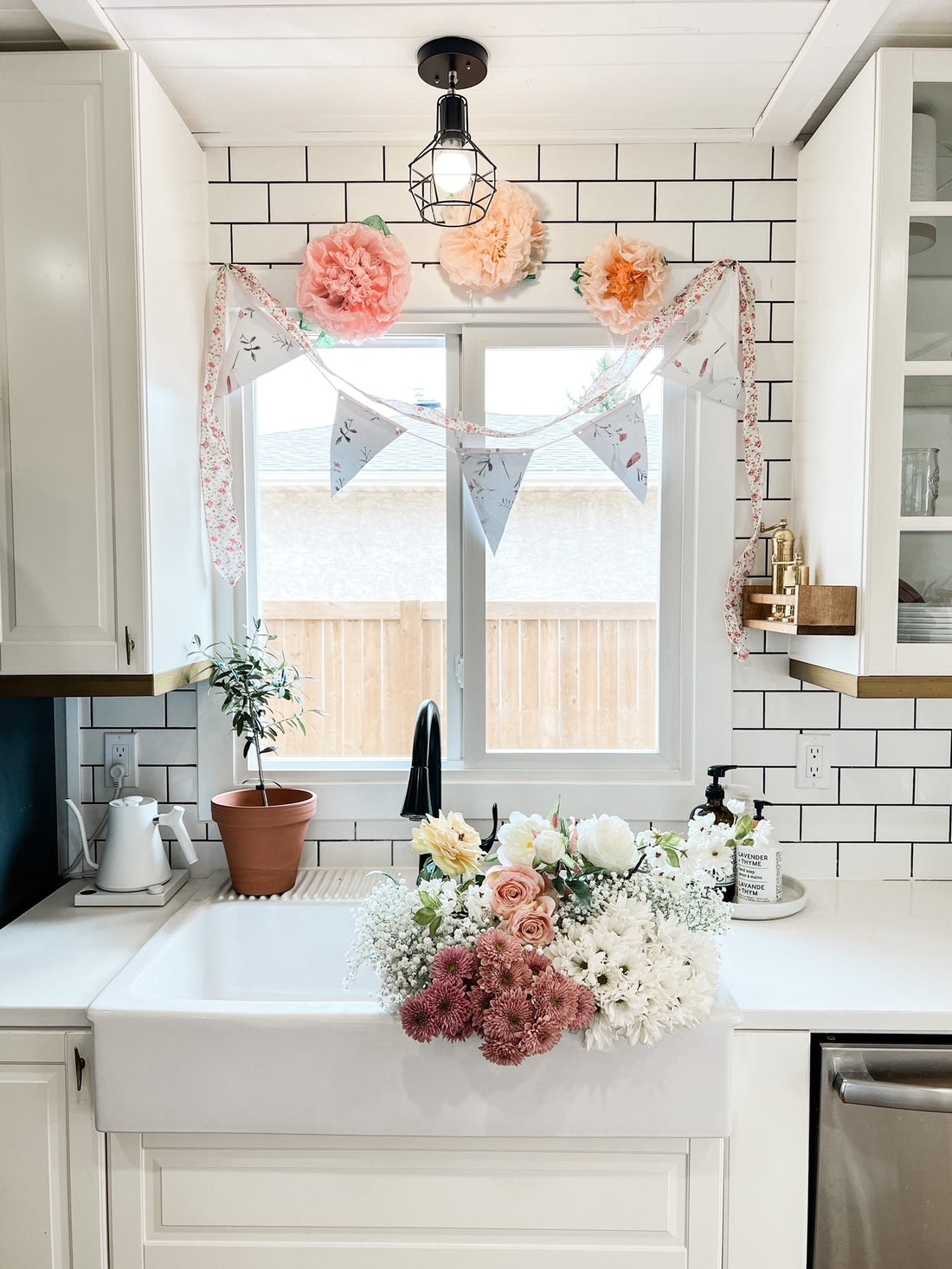 Looking for an easy and fun DIY craft to make a special occasion even more special? Try making a DIY floral bunting banner for a birthday party, baby shower, mothers day brunch or even a bridal shower! Using leftover removable wallpaper as the flags on the garland makes this bunting banner craft even simpler. 
What you'll need:
- Cardboard
- Scissors
- Yarn
- Hole punch
- Left over removable wallpaper (we used this cute floral unicorn design)
Tutorial:

1.  Cut out an isosceles triangle (remember in elementary school when they promised us we would most definitely use isosceles triangles in real life? They weren't kidding I guess!)  with two 9″ sides and a 6" base on a piece of cardboard. This will be your pattern template.
2. Trace the cardboard template onto the back of your removable wallpaper using a sharpie, and then cut along the lines to create your first triangle flag (see picture above). Repeat four times so you have a total of 5 flags for your bunting banner. 
3. Using the hole punch, punch two holes at the ends of the base side of each triangle flag. Once all 5 are hole punched, run your yarn through, and find a cute spot to hang your flag bunting banner. It's that easy! We hung it about above our sink, and added some floral ribbon we had on hand.

PHOTO CREDIT: @rockymountaindecals | PEEL AND STICK WALLPAPER DESIGN: unicorn
We absolutely loved how this floral bunting banner turned out and know you will too!
Looking for more cute DIY hacks and tutorials? Have a look at these posts:
- IKEA step stool makeover hack
- Homemade Valentines DIY giftcards
- Super easy hack for creating your own gift wrap
Subscribe to our newsletter and be the first to know about new designs, sales and see more blogs like this!