Styling an Enchantingly Pink Floral Themed Girls Room For A Good Cause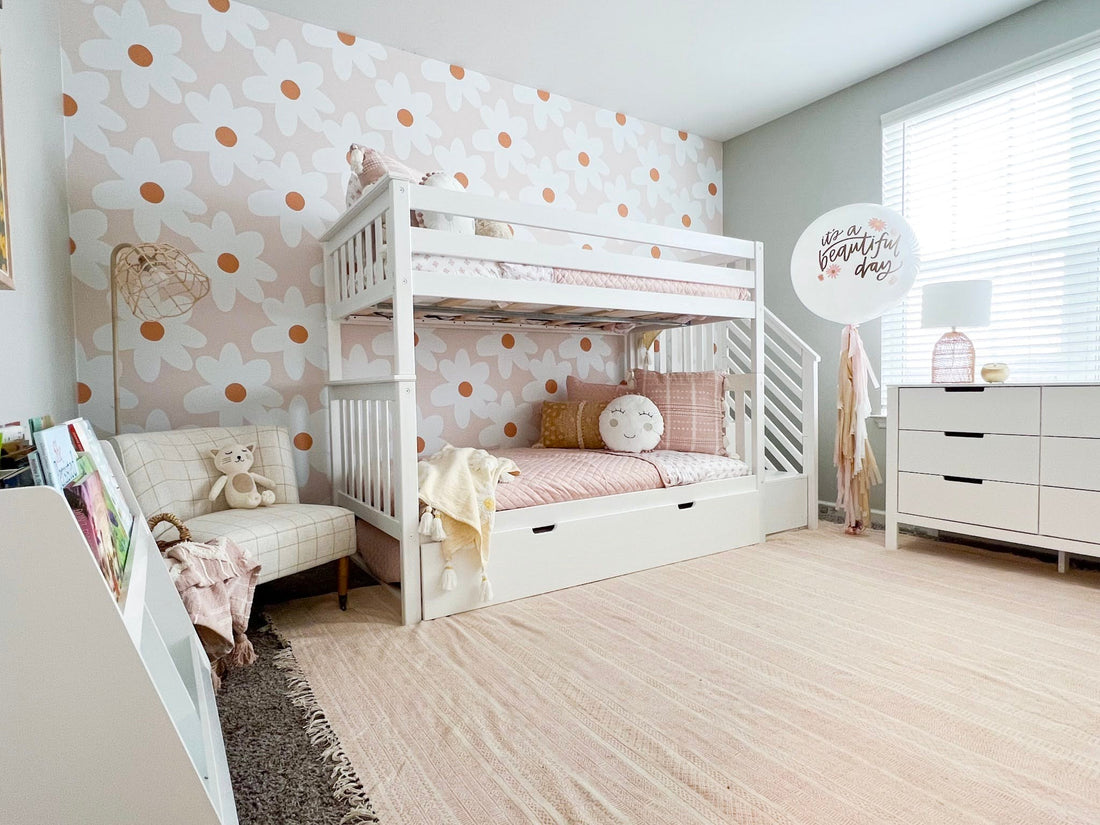 All Photo Credits: Bloom Family Designs  |  PEEL AND STICK WALLPAPER:Daisy Days 

Rocky Mountain Decals was so excited when Bloom Family Designs reached out to create a beautifully designed room for adopted & foster children with our Daisy Days peel and stick wallpaper.

Bloom Family Designs founder Melissa Whitlock knows how much goes into bringing a new child home (emotionally, physically, financially, etc.) and her mission is to take one of those items off the list through gifting. Each family selected by Bloom Family Designs is given a thoughtfully designed, decorated, and furnished child's room with zero financial costs for the family to help create a home full of love, care & security for each child.


Now with just a few simple decorating ideas and tips, we want to help you transform your daughter's bedroom into a beautiful pink floral oasis. Check out these beautiful images and ideas to help you easily create an eye-catching and whimsical room your child will love.

Tip 1: Choosing the Right Paint Color

The key to creating a perfect girl's room is finding the right color scheme. Choose a light, neutral for the walls like this beautiful shade of grey. This provides a serene backdrop that will bring out the beauty of the other elements like pillows, furnishings, and artwork. You can even choose accents in light shades of color like blush pink or soft tangerine orange to give the room extra personality!
Tip 2: Add Floral Details with Wallpaper and Accessories

To add to the look, add floral details with peel and stick wallpaper (like Daisy Days peel and stick wallpaper pictured here) and fun accessories such as flowery bedding, rugs, curtains, and more. You can even choose furniture with floral prints or motifs for an extra touch of enchantment or stick with neutral fabrics to contrast with the floral elements. Pro tip - be sure to select items that are easy to clean too so your girl's room stays looking great even after lots of years of playtime!


Tip 3: Consider Adding a Bunk Bed

When designing an enchantingly pink floral themed girl's room, adding a bunk bed is a great use of space for multiple children, and the perfect way to bring character into the room. Not only are they beautiful (like this white one pictured) but also extremely functional. Choose one in shades of white, cream, or blush to enhance the delicate nature of the room design, or grab a used one off a local online marketplace and give it new life with a lick of paint.


Tip 4: Create a Cozy Reading Nook

Putting together a little reading nook in a corner of the bedroom creates a cozy sanctuary where your little ones can go for some quiet time with their favourite books. Simply pop some books into a small bookshelf or floating shelf book racks, throw some blankets and pillows in a basket and and add comfortable seating like a fabric covered chair or beanbag and voila! You've created the perfect place to let their imaginations run wild.


Tip 5: Finish with Soft Textiles Like Area Rugs, Window Valances, Throw Pillows and Curtains

An easy way to tie everything together is with soft textiles like area rugs, window valances, curtains and throw pillows. Area rugs are great for adding more color and texture to the room without overcrowding it. Select one in shades of pink, white and orange with a floral design to pull the entire theme together. You can also add some whimsical touches such as small white tree branches hung over the windows or small prints of floral vases. Better yet, pop a vase of fresh wild flowers on a nightstand to instantly breath life into a room. These little touches will give your daughter's room the extra personality that defines her unique style.


We LOVED being able to have our peel and stick wallpaper a part of this special room for a wonderful cause. A huge thank you to Melissa from Bloom Family Designs for organizing this incredible initiative!
Subscribe to our newsletter and be the first to know about new designs, sales and see more blogs like this!