The Perfect Cupcake Recipe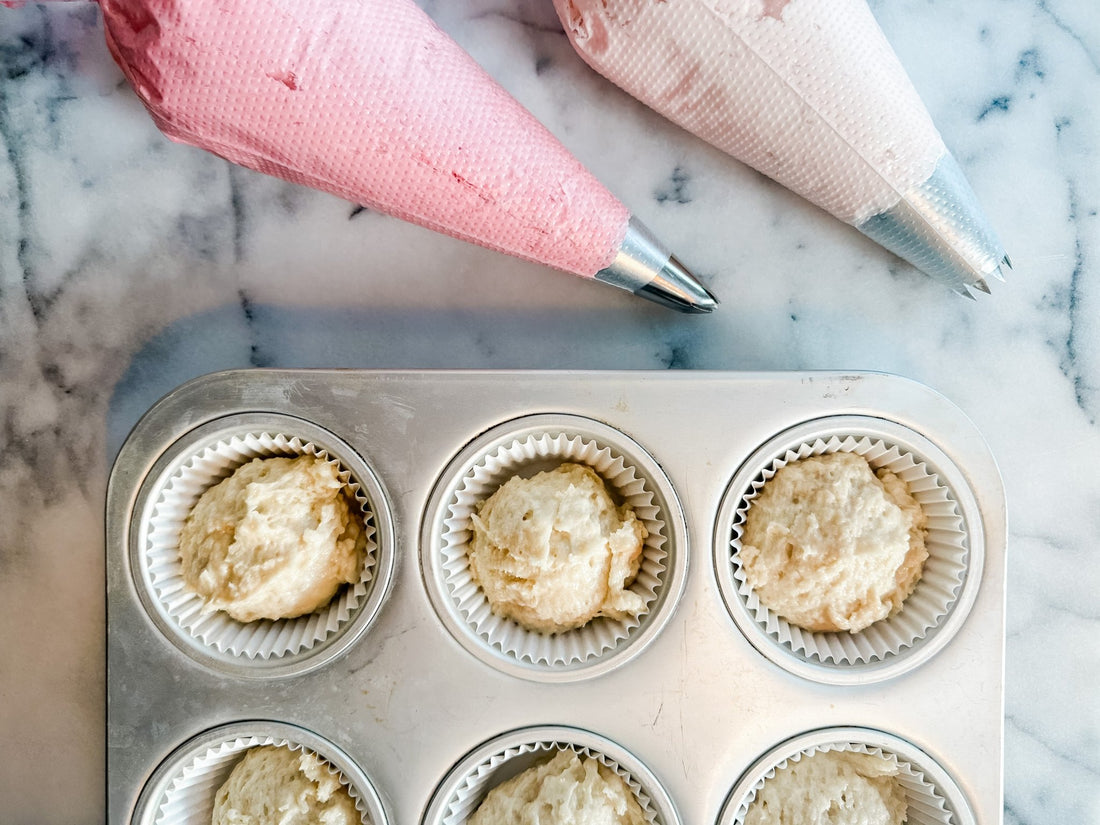 Is there anything more deliciously nostalgic than a fluffy vanilla cupcake? From birthday celebrations to holiday parties, vanilla cupcakes are the treat that everyone's always happy to see. Whether you're looking for the perfect dessert for a special occasion or simply a fun afternoon baking project, everyone needs a go-to, classic vanilla cupcake recipe, and this is it. These cupcakes are tender, fluffy, and sure to be a crowd pleaser. Happy baking!


Baking Tips

We've all had cupcakes that have turned out dry, crumbly, and just a little disappointing. Here are some of our best tips for fluffy and moist homemade cupcakes:
• Don't overmix: This tip is essential! After adding the flour, gently fold the batter until it is just combined. Overmixing will result in dense, heavy cupcakes.
• Use room temperature ingredients: For best results, allow your eggs, butter, milk, and sour cream to come to room temperature before beginning. This will allow your batter to combine properly.
• Measure your flour with a spoon: Rather than scooping the flour into the measuring cup itself, use a spoon to fill the measuring cup. This will ensure you add just the right amount of flour and prevent dry, crumbly cupcakes.
• Use high quality ingredients: To take this recipe to the next level, use the best quality butter, vanilla, and full-fat sour cream you can find in your local grocery store.



Perfect Vanilla Cupcakes

This is truly the best cupcake recipe. These perfect vanilla cupcakes are tender and fluffy with the perfect hint of vanilla. Bon Appetit!

Ingredients

1 3/4 cup all purpose flour
1 cup sugar
1 tsp baking powder
1/4 tsp baking soda
3/4 cup unsalted butter, room temperature and cut into cubes
1/3 cup egg whites
1/4 cup sour cream
1/2 cup whole milk
1 tablespoon vanilla
PHOTO CREDIT: @ROCKYMOUNTAINDECALS | PEEL AND STICK WALLPAPER DESIGN: IVY

 

COTTAGE

Instructions

1. Preheat the oven to 350° F. Line cupcake pans with 16 cupcake liners.

2. In the bowl of a stand mixer fitted with the paddle attachment, combine the flour, sugar, baking powder, baking soda, and salt. Mix on low speed for 30 seconds. Add the butter and continue to mix on low speed for two minutes, or until the mixture has the texture of wet sand. Do not overmix. Slowly pour in the egg whites and mix until the batter is combined. Scrape down the sides of the bowl. Add the sour cream and mix until just combined.

3. In a separate measuring cup, whisk together the milk and vanilla. With the mixer on low speed, slowly pour the milk and vanilla mixture into the bowl and gently mix until just combined. Scrape down the sides of the bowl for 10 to 15 seconds. The batter will look a little lumpy.
4. Divide the batter evenly among the cupcake liners, filling each three quarters of the way full. Bake for 15 to 18 minutes, or until a toothpick Inserted in the middle of a cupcake comes out clean. Allow the cupcakes to cool for five minutes in the pans before transferring to a wire rack to cool completely.

P.s. Want to check out the best cupcake frosting recipe? Check it out here

So there you have it! You have just created the best tasting cupcakes with this ultimate guide revealing the perfect ingredients and techniques for mastering your favorite recipes.

Looking for a cute way to dress up your cupcakes? Check out these cute DIY cupcake treat boxes here. We used some of leftover Ivy Cottage peel and stick wallpaper to make the cupcake boxes extra pretty!

Here are some bonus techniques for mastering the most mouthwatering cupcakes from scratch.

Choose the Right Ingredients.
Using the right ingredients is essential for making delicious cupcakes. Start with high-quality butter, sugar, and flour, then add fluffy eggs and flavorful extracts such as vanilla or almond. Don't forget about checking the freshness/expiry date of one of the most important ingredients - leavening agents like baking powder or baking soda that is fresh will ensure your cupcakes are perfectly soft and fluffy!

Prep Your Baking Area.

Before you start baking your cupcakes, make sure your baking area is well-prepared. Clear the counters and cabinets of any unnecessary items and gather all necessary ingredients and utensils. Preheat the oven according to the recipe instructions and ensure that it is working properly. Make sure you have plenty of parchment paper and cupcake liners at hand. Last but not least, place a cooling rack nearby to cool your cupcakes after they're done cooking. Only then can you start creating delicious sweet treats for your friends and family!

Preheat the Oven and Grease the Pans.

Preheat the oven to the temperature specified in your recipe and make sure to check that it is working properly. Once the oven has reached temperature, carefully grease or line the cupcake pans with parchment paper or cupcake liners. This step helps prevent sticking and makes for easy removal so your cupcakes won't get ruined when you remove them from the pans. Greasing with butter or cooking spray prior to adding paper liners is recommended for an extra layer of protection against sticking.

Sift and Measure Dry Ingredients

You need to sift together the dry ingredients prior to adding them in with the wet ingredients. This will ensure a smooth, even texture and make your cupcakes extra fluffy. Dry ingredients you need to sift together include all-purpose flour, baking powder or baking soda (depending on what type of cupcake it is), and salt. Once they are sifted, measure the dry ingredients using measuring cups and measuring spoons then add them into a mixing bowl.

Cream The Wet Ingredients Well

After measuring out your dry ingredients, you need to cream together the wet ingredients. For most recipes, this will include butter and sugar in either a stand-mixer on low speed or with a hand-held mixer. Ensure all of the butter is mixed until creamy before adding in the other wet ingredients such as eggs, milk, and vanilla extract. After all of the wet ingredients have been mixed together well, slowly add in the dry ingredients starting with a quarter cup at a time.



Looking for more cute DIY hacks and tutorials? Check out these fun and easy arts and crafts posts:


Subscribe to our newsletter and be the first to know about new designs, sales and see more blogs like this!