Top 5 reasons we love peel and stick wallpaper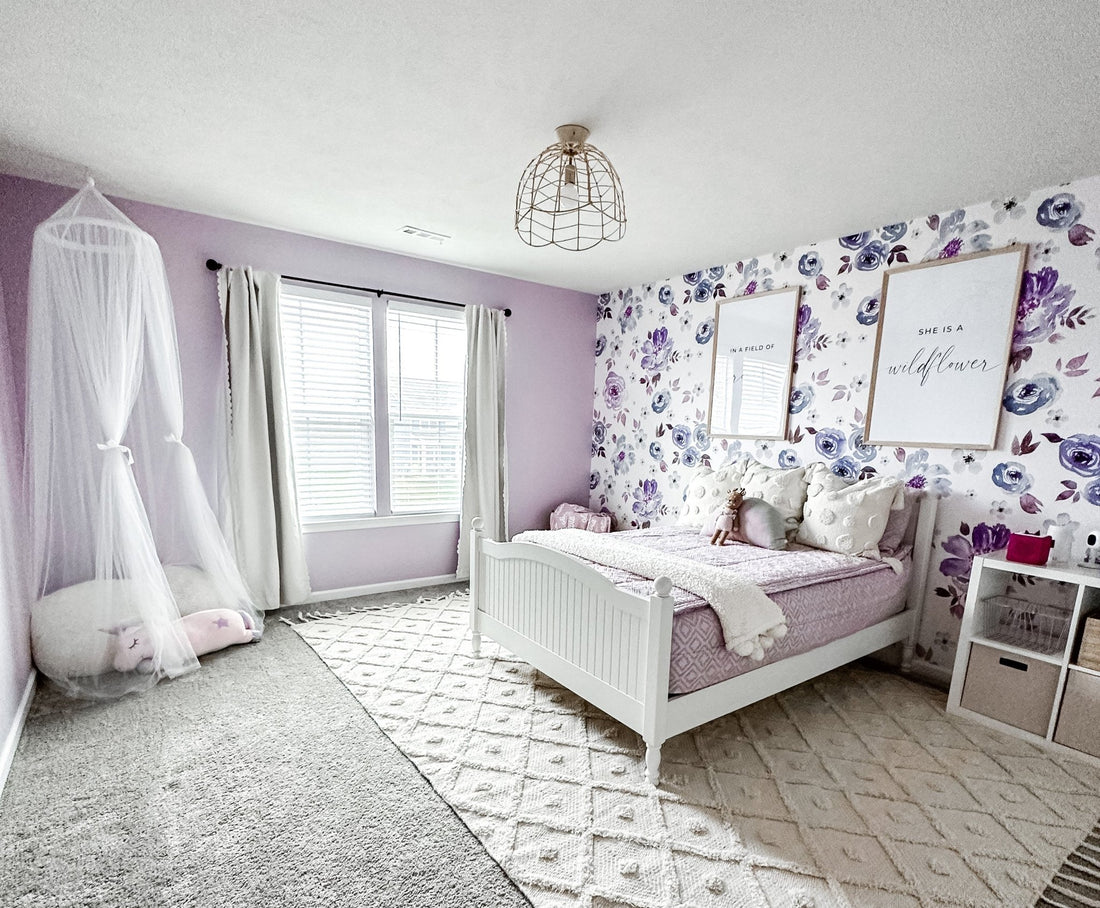 Photo Credit: @lacesandlumber  |  PEEL AND STICK WALLPAPER DESIGN: ROXI

5 Reasons You Should Use Peel and Stick Wallpaper
1. Perfect for rentals
2. Instantly transforms any space
3. Easily switch out designs  
4. Very versatile
5. Easy to install 
Rental Friendly
We love how our high-quality PVC free wall fabric won't damage your walls, making it perfect for anyone renting but wanting to add some unique character to their space. Wallpaper, murals and wall decals are tailor made for the renter; easy install, easy removal! It looks stunning and gives your space a unique and personalized feel. 



Photo Credit: @

mamaswildpeach  

|  PEEL AND STICK WALLPAPER DESIGN: Lichen
Instant Transformation


Have a room that just feels like it's lacking something? Our wallpaper is an easy, fun and affordable way to add a little flair to a space or change the look of it completely. All of our peel and stick decals and wallpapers are custom made to order, and we offer a large variety of designs from super subtle to highly dramatic. Want bold florals for you powder room? We have it. Want subtle, but adorable animals for your little one's nursery? We have that too. We have designs for every personality, and every space.




Photo Credit: @upstaginglimited  |  PEEL AND STICK WALLPAPER DESIGN: Peony



Damage free removal
Our peel and stick removable wallpapers feature a wall-safe adhesive backing which sticks to smooth walls but is easy to remove and will not leave any residue or tear off paint when removed (unlike traditional wallpaper which is permanently pasted to your walls).



Photo Credit: @rockymountaindecals  |  PEEL AND STICK WALLPAPER DESIGN: Dalmatian

Versatile
Removable wallpaper isn't only for bedrooms. Peel and stick wallpaper is great for mud rooms, closets, pantries, bookshelves and more. The possibilities are endless. Did you know self adhesive wallpaper also works great in powder rooms and bathrooms? As long as your surface is dry, smooth, free of texture and clean, it is likely a great candidate for a peel and stick wallpaper facelift! Wallpaper can be installed on full walls, above or below board and batten, and even on ceilings!




PHOTO CREDIT: @RAMAGECREATURECOMFORTS  |  PEEL AND STICK WALLPAPER DESIGN:
BLOOM - RAINFOREST
Easy To Install
We love how easy installing peel and stick wallpaper can be. If the proper steps are followed (as laid out in the instruction packet included with every order) then applying our peel and stick removable wallpaper and wall decals is EASY! Want your install to go even smoother? Invite a friend to help and don't rush. With a little patience, some help from a friend, and a beautiful wall paper, your room will be transformed before you know it! If you make a mistake, you can peel it back and apply again. That's the best part! 


PHOTO CREDIT: @ashtonrounds_  |  PEEL AND STICK WALLPAPER DESIGN: Madelyn
Sometimes getting started is the hardest part. Make it easy on yourself, order some samples (see current promotions!) to see what designs will work in your space. We offer large samples that are 11.5" wide and 30" tall. These samples are perfect for getting a paint match at the store and testing the adhesion on your walls (great for checking if your walls have too much texture.) Once you're done with the sample, peel it off and reuse it! Our samples can be used to line shelves, fill framing, back bookcases, cover side tables, wrap gifts and so on. Our blog features many ideas for your leftover wallpaper!



Photo Credit: @

jennasuedesign  

|  PEEL AND STICK WALLPAPER DESIGN: Botanical Bliss
What are you waiting for!? Take the leap and give your baby the nursery you've been dreaming of. Brighten up your towel closet. Give your "big kid" the room transformation they've been begging for. Or maybe, finally give yourself that bedroom oasis you keep putting off but totally deserve. Regardless of what project you want to tackle, Rocky Mountain decals will have a wallpaper just for you! 
We love seeing our wallpaper designs in your homes! When you're done your project, tag us! We love sharing your spaces on our social media. As always, thank you for letting us into your homes and trusting our peel and stick products on your walls!
Subscribe to our newsletter and be the first to know about new designs, sales and see more blogs like this!